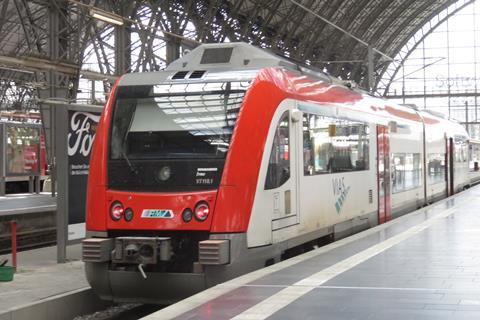 GERMANY: Reopening an out-of-use part of the former Gersprenztalbahn route east of Darmstadt is not economically viable, a feasibility study has concluded. Improvements to existing bus and Odenwaldbahn services have been deemed more cost effective.
The study into reopening 3·1 km of the Gersprenztalbahn from Reinheim to Groß-Bieberau was commissioned jointly by Rhein-Main transport association RMV and Darmstadt-Dieburger region's DADINA.
It found the project would cost around €14m but would attract only around 150 new passengers a day. The benefit-cost figure of 0·3 was well below the 1·0 needed to be considered eligible for investment.
Providing a through service to Frankfurt would require trains to be attached to or split from Odenwaldbahn services in Reinheim, and the time required for this would mean journeys would take as long as on the existing half-hourly bus service.
RMV will instead focus on plans for developing the Odenwaldbahn which include the procurement of additional vehicles to increase capacity on the route to Frankfurt. The stations could also be expanded to accommodate longer trains by 2030, with half-hourly services to Darmstadt and Hanau and hourly journeys to Eberbach envisaged.