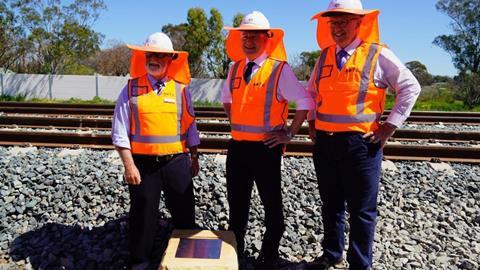 AUSTRALIA: Celebrations were held at Peak Hill in the central west of New South Wales on September 15 to mark completion of the first section of the 1 700 km Inland Rail corridor between Melbourne and Brisbane.
Deputy Prime Minister and Minister for Infrastructure, Transport & Regional Development Michael McCormack drove home a golden rail fastening to conclude the Parkes – Narromine upgrading project, almost three years after the start of work in January 2018.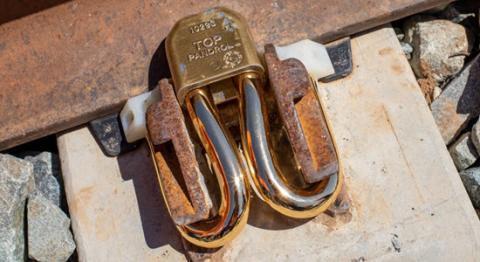 He pointed out that more than 1 800 people had been employed on the A$110m project, which has seen 98 km of existing line rebuilt to accommodate longer and heavier trains, together with the construction of a 5·3 km connection near Parkes where Inland Rail will intersect with the Sydney – Broken Hill – Perth corridor.
'Inland Rail is nation-building and today recognises a great milestone in this transformational infrastructure', said McCormack, adding that it was 'an investment in Australia — in our economy, in our regions and in the capacity of our future freight network. This is real progress on a project which has been talked about since federation.'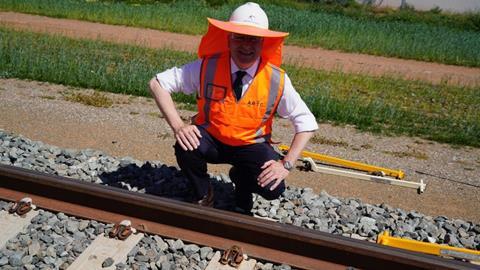 Describing Inland Rail as 'a once-in-a-generation project that delivers major benefits to the nation', Finance Minister Mathias Cormann emphasised that 'long-haul rail is cheaper, safer and more reliable than road. The shift from road to rail builds resilience in our freight network. That's why the government is enhancing the national freight rail network through our investment in Inland Rail.'
Australasian Railway Association CEO Caroline Wilkie said 'the promise of Inland Rail has already generated significant activity in the Parkes region as the community readies itself for the opportunities better rail freight connections will bring. It is now critical that the project's swift progress across the rest of the route is supported so even more communities and businesses can benefit in this way.'
ARTC expects to start work on upgrading the disused Narrabri – North Star line before the end of this year, having completed the delivery of 25 000 tonnes of new rails and 350 000 concrete sleepers in late August. This section of the corridor runs through northern NSW, leading towards the Queensland border. ARTC is currently consulting over the environmental impact statement for the intervening Narromine – Narrabri section, which requires the construction of around 300 km of new railway.