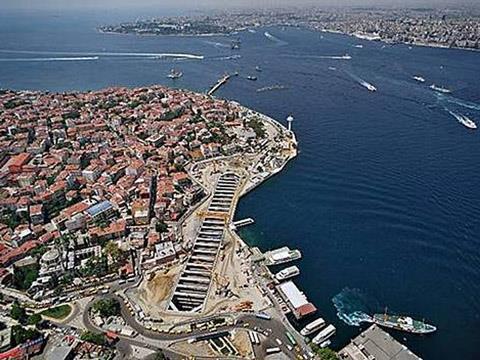 TURKEY: The Transport Ministry's Directorate of Railways, Harbours & Airports Construction, DLH, has confirmed the award of contract CR3 for the Marmaray Project in Istanbul. This covers reconstruction of the existing lines which will feed the cross-Bosporus immersed tube tunnel now being fitted out and installation of signalling and automatic train protection on the entire route.
Valued at €932·8m, the contact has been awarded to a 70:30 joint venture of Spanish civil engineering company OHL and Invensys Rail, following a decision to re-bid the project. An €815m contract then designated CR1 had been awarded in March 2007 to the AMD consortium of Alstom, Marubeni and Dogus, but this was later terminated as little work had been competed.
Bids for the revised contract CR3 were submitted on February 28, and the winning bidder was announced on October 25. The project is being supported by the Council of Europe Development Bank and European Investment Bank. Work is now expected to start in early 2012, with the first phase scheduled for completion by October 2013.
The project covers the upgrading of 63 km of existing railway on both the Asian and European shores to connect with the 14 km cross-Bosporus link, creating a 77 km cross-city commuter corridor linking Gezbe and Halkali. A third track is to be laid alongside the existing double-track route to accommodate inter-city and freight services, with complete renewal of the overhead electrification and signalling. The line will have 40 new and upgraded stations, two control centres and new stabling yards and maintenance facilities.
Valuing its share of the deal at €195m, Invensys Rail Dimetronic will design and supply the new signalling using its Sirius CBTC and Westrace interlockings, with Futur ERTMS Level 1 providing the ATP overlay. Invensys will also supply jointless track circuits, axle counters, LED signals and centralised traffic control. The contract includes maintenance for two years with an option for a further five year extension.