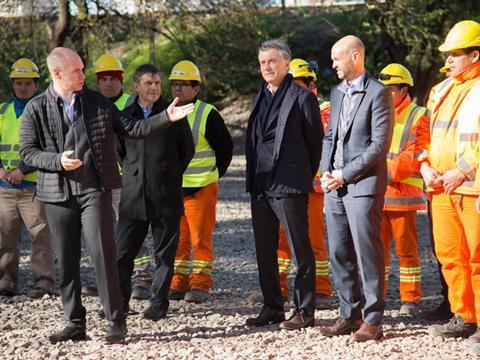 ARGENTINA: On September 5 President Mauricio Macri joined Horacio Rodríguez Larreta, head of the Bueno Aires city government, and Transport Minister Guillermo Dietrich to mark the start of work on a 3∙9 km elevated alignment for the Mitre commuter route.
Running between Avenida Dorrego and Avenida Congreso, the new viaduct will enable eight level crossings to be removed and two streets currently divided by the railway to be connected. It is expected that over 200 000 rail and bus passengers as well as car drivers will benefit from the safety improvements, capacity increases and journey time reductions that the project is planned to deliver.

'The train is an essential mode of transport and we want to be able to triple the number of people travelling', said Macri. 'This is going to mean that many Argentinians are going to stop using the car, they are going to use transport more efficiently and they are going to pollute the environment less.'

Elevating the Mitre alignment will also see the stations at Lisandro de la Torre and Belgrano C rebuilt. Expected to employ over 1 500 people, the project is due for completion in mid-2019.