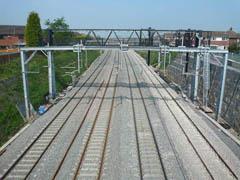 UK: Infrastructure manager Network Rail formally announced plans to form 'alliances' between its operational regions and franchised passenger train operating companies on January 23, saying this would streamline decision-making and deliver 'a more passenger-focused operation at lower cost'.
Framework agreements have been reached with Abellio Greater Anglia, which takes over the Greater Anglia franchise on February 5, and incumbent operators c2c, ScotRail, Northern and Southeastern, while 'discussions continue with all other operators'.
There will be separate agreements with each train operator, but all will include working together to plan infrastructure maintenance work and develop projects which improve efficiency or train punctuality.
Network Rail and the TOCs will remain ultimately accountable for their own areas of responsibility, and staff will remain with their current employer under existing terms and conditions.
'Working more closely with the train operators, with decision-making devolved to the front line and better-aligned incentives, will, I believe, bring substantial benefits', said Network Rail Chief Executive David Higgins. 'The alliances will deliver a better service for passengers and freight users and at lower overall cost to the taxpayer.'
Key principles for the alliances have been agreed, but discussions are continuing and final government and regulatory approval will be needed; Network Rail said the interests of other operators would be protected.
A different model of 'deep alliance' is being developed between Network Rail's Wessex Route and South West Trains. This could see the formation of a single joint management team covering what SWT Managing Director Tim Shoveller says is 'one of the busiest commuter networks in Europe'.