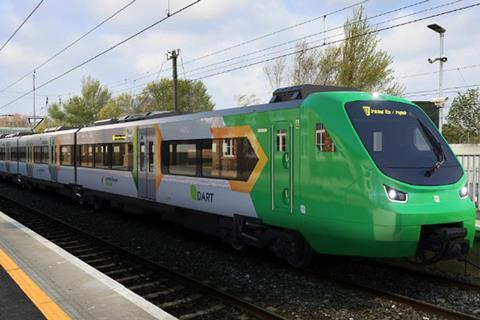 IRELAND: A formal application is being lodged for powers to upgrade and electrify Iarnród Éireann's suburban routes from Dublin Connolly/Spencer Dock to Maynooth and M3 Parkway.
The DART+ West enhancement project is to be funded by the National Transport Authority under Project Ireland 2040. According to the promoters, the work will increase passenger capacity by more than 160% and provide more sustainable transport options residents and commuters in the Irish capital.
The planned works include:
40 km of 1·5 kV DC electrification and re-signalling on the lines from Dublin to Maynooth and M3 Parkway;
capacity enhancements at Dublin Connolly station and the development of a second entrance on Preston Street;
construction of a new station at Spencer Dock, providing direct interchange with the Luas light rail Red Line;
closure of six level crossings;
construction of a DART depot west of Maynooth station;
civil, bridge and ancillary works.
Timeline
Transport holding company CIÉ is to lodge an application for a Railway Order with planning authority An Bord Pleanála on July 29, leading to a public consultation period run from August 5 to September 30. This will be the first major Railway Order application under the current National Development Plan.
Subject to receiving planning approval and funding, construction works are scheduled to commence in 2024 for operation from 2029.
Revolutionising commuting
Minister for Transport, Environment, Climate, Communications & Transport Éamon Ryan said the 'modern, electrified, fast and frequent' rail services would give areas where younger couples and families live 'a reliable and direct rail connection to the city, and offer an end to the commuting and congestion that too many have had to deal with on roads into the city'.
Confirming that applications for the DART+ South West and DART+ Coastal North and South projects would follow, Iarnród Éireann Chief Executive Jim Meade said the DART+ programme would 'truly revolutionise commuting in the Greater Dublin Area, and assist in meeting Ireland's climate action targets by reducing reliance on the private car and providing sustainable high frequency, high capacity public transport.'