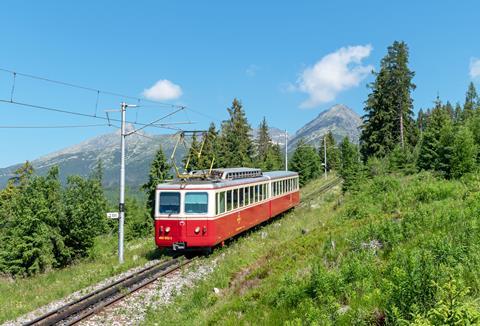 SLOVAKIA: Infrastructure manager ŽSR has launched a seven-month modernisation of the 4·75 km metre-gauge rack railway between Štrba and the winter sports town of Štrbské Pleso in the High Tatra mountains. All trains will be replaced by buses until February 6 2021.
The work, which is being undertaken by a consortium of Strabag and Swietelsky-Slovakia, includes renewal of the track, signalling and 1·5 kV DC overhead electrification, as well as modernisation of Štrba, Štrbské Pleso and Tatranský Lieskovec stations.
The €18·6m cost is being met from ŽSR's own resources.
When the project is complete, services on the rack line and the adjacent Tatra Electric Railway will be operated by a fleet of five Stadler GTW low-floor EMUs. These were ordered in October 2018 in a €38·8m EU co-funded contract which also includes a hybrid electro-diesel locomotive. The GTWs will replace three Class 405.95 rack-and-pinion EMUs built by SLM Winterthur in 1970; operator ZSSK plans to preserve at least one unit for heritage trips.