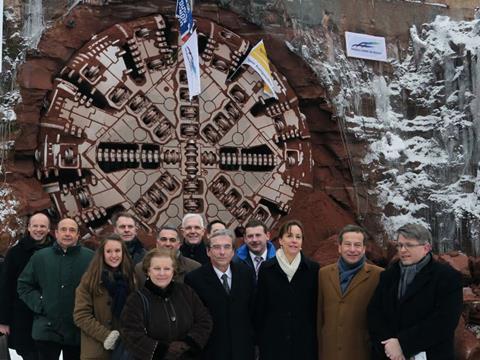 FRANCE: Transport Minister Frédéric Cuvillier joined RFF President Jacques Rapoport and other dignitaries on February 25 to mark the completion of the second bore of the 4 020 m Saverne Tunnel, one of the major structures on the second phase of LGV Est between Paris and Strasbourg.
The first bore was excavated between November 10 2011 and June 19 2012 using 'Charlotte', a 10 m diameter Herrenknecht TBM weighing 2 200 tonnes. Work on the second bore started on September 26 2012, and has now been completed on schedule and 'in record time', according to RFF.
RFF also says that the Saverne Tunnel is the first to be built to comply with the European TSI covering Safety in Railway Tunnels, its twin bores connected by cross-passages every 500 m. Involving the excavation of 730 000 m3 of rock and the installation of 30 960 concrete tunnel lining segments, construction has been undertaken by the Dodin-led joint venture awarded Lot 47 of LGV Est.
Running for 106 km from Baudrecourt to Vendenheim, Phase 2 of LGV Est is expected to enter service in spring 2016. Costing €2·01bn, completion of high speed infrastructure between Paris and Strasbourg will cut the fastest journey time between the two cities from 2 h 20 min to 1 h 50 min.