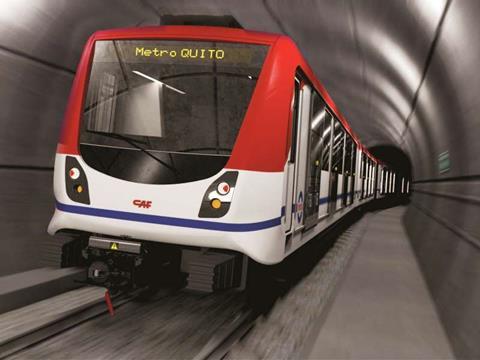 ECUADOR: The consortium of Acciona and Odebrecht which is building Quito Metro Line 1 has awarded Siemens a contract to supply electrification systems for the 22 km line.
The scope of the contract announced on October 21 includes the supply of 46 km of rigid catenary, 6 km of conventional catenary, 11 traction power supply stations, 29 auxiliary power supply stations and associated SCADA systems.
The line from El Labrador in the north of the city to Quitumbe in the south with 15 stations is scheduled to open in mid-2019. The fleet of 18 six-car trainsets to be supplied by CAF is projected to carry more than 350 000 passengers/day, with an end-to-end journey time of 34 min.
The line will be entirely underground, but will also be one of the highest metro systems in the world at more than 2 800 m sea level.