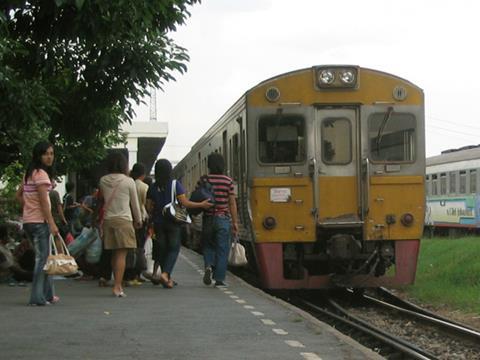 THAILAND: A 6bn baht programme of track renewals and earthworks enhancement is due to begin next month, according to State Railway of Thailand Governor Prapat Chongsanguan.
The work is focused on the 1 200 km main line running south from Bangkok, with the aim of raising line speeds and improving safety on the metre-gauge network. Soil reinforcement and replacement of wooden sleepers with concrete will initially be undertaken on the 1 000 km section between Hua Hin and Sungai Kolok, close to the border on the eastern branch of the two rail corridors between Thailand and Malaysia. The programme is expected to take around three years to complete, although Chongsanguan said that he hoped 'the southern rail route would remain open to travellers' during most of the work.
Medium-term investment in SRT's main line network has been in doubt after the government's plans to introduce a 2tr baht national infrastructure programme were declared 'unconstitutional' in a court ruling in early March. Any revival of the ambitious proposals, which included funding for a network of four standard gauge fast passenger lines, double-tracking of the metre-gauge network and a series of urban rail projects in Bangkok, is dependent on the election of a permanent government.