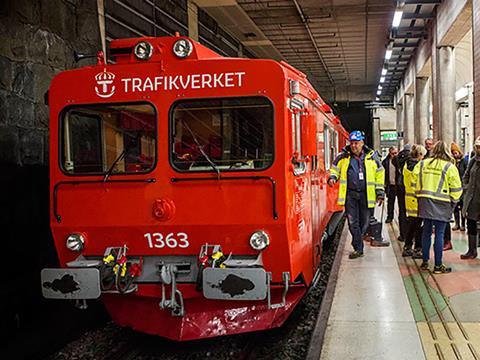 SWEDEN: The start of test running on the Citybanan deep-level link across central Stockholm was marked when guests including Minister of Infrastructure Anna Johansson rode on a special train from Stockholms Södra to Tomteboda in the north through the immersed tunnel on January 14.
Testing is being undertaken using a Trafikverket Y1S diesel railcar, pending the completion of work to install electrification equipment on the 6 km route.
Construction of the SKr16·8bn Citybanan is scheduled to be completed this summer and the opening is planned for July 2017, increasing total capacity through the city from 28 to 52 trains/h. Cross-city suburban rail services will be diverted from the current double-track 'wasp's waist' route which is shared with long-distance passenger and freight trains and forms a significant bottleneck on the national network.
'Citybanan is of great importance for efficient commuter trains in Stockholm but it is equally important for the improvement of punctuality on all of Sweden's rail network', said Johansson. 'Now we are approaching completion we may soon see a real and necessary boost to rail service'.