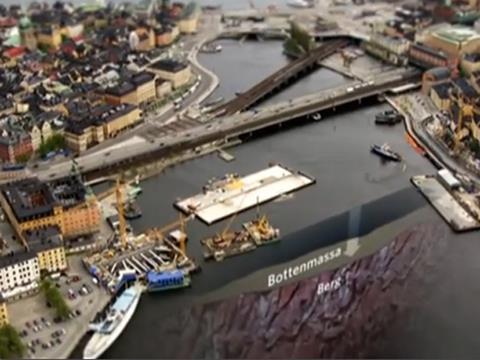 SWEDEN: National infrastructure authority Trafikverket has awarded a SKr207m contract to Strukton Rail for fitting out the 6 km Citybanan line now under construction under the centre of Stockholm.
The contract announced on September 2 covers the entire double-track route between the existing stations at Tomteboda and Stockholms Södra, including the Riddarfjärden immersed-tube tunnel under Lake Mälaren which was completed last month.
As well as providing the trackwork, signalling, electrification and power supply, Strukton will also install telecommunications systems and fire alarms along the entire route. A non-ballasted trackform is to be used, with turnouts cast in situ. Work is expected to get underway within the next few weeks for completion by the end 2016.
'We are delighted to have won Trafikverket's confidence', said Strukton's regional manager Johnny Berg. 'This is an enormous investment that affects many, and the new line will be a boost for all Stockholm commuters. For us, the project is also interesting because we will use new methods of work and have a broad collaboration with other stakeholders'.
Running mainly in bored tunnel with two intermediate stations, the double-track Citybanan will effectively quadruple a critical section of Trafikverket's main line through the centre of the capital, where the southern approach to Stockholm C is carried over Lake Mälaren on a double-track bridge. Diverting SL's Pendeltåg suburban services into the new tunnel from 2017 will enable frequencies to be increased while releasing capacity on the existing route for more long-distance trains.