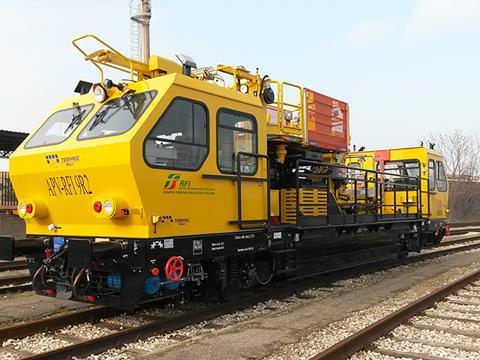 ITALY: Bergamo-based Tesmec expects the formal award before the end of the year of a contract to supply up to 88 multi-functional maintenance vehicles to infrastructure manager RFI.

With a nominal value of €92m, the contract for which Tesmec has been named preferred bidder is divided into three lots; two cover 62 self-powered maintenance vehicles with bogies, while the third covers 26 twin-axle cars.

The vehicles are intended for various maintenance tasks on RFI's conventional and high speed lines. They are designed to meet the relevant European and domestic safety standards and will be equipped with RFI's SCMT/SSC-BL3 train control system.

The vehicles will be able to operate remotely within a train formation with other vehicles; a central traction monitoring unit would assign a pre-set maximum speed and adjust the drive system of each vehicle accordingly.

They are equipped with cranes, work platforms and baskets integrated into a single chassis, in order to operate at height for overhead line maintenance and installation.

Tesmec has developed a diagnostic remote management tool to supervise the performance of the fleet, reduce fuel costs and emissions, and optimise maintenance. Data transfer to and from the vehicles is undertaken using GSM/HSPA+ and CDMA communications protocols.

The vehicles' diesel powerpack is fitted with selective catalytic reduction devices to limit emissions and noise in compliance with Stage IV standards. The vehicles are equipped with a hydrostatic transmission and an electronic control management that provides a continuous and automatic speed regulation in the complete speed range and a 'creep mode' with no jerking motions. A suspension system featuring silent-block bushing has been designed to provide dynamic stability when the vehicles are operating in a main line environment or being transferred between worksites.