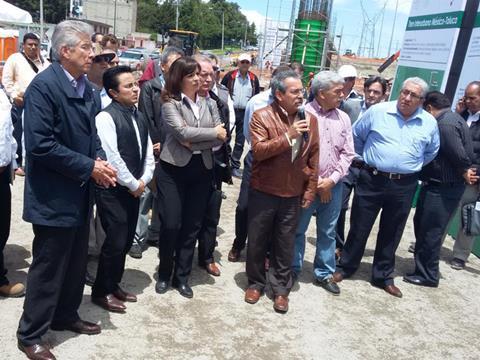 MEXICO: On August 14 Secretary of Communications & Transport Gerardo Ruiz Esparza inspected progress with works between Zinacantepec and Portal Poniente on the first section of the 57 km electrified passenger railway being built between Toluca and Mexico City.
Civil works were 11% complete, with 550 workers deployed at 14 sites which included three stations already under construction.
Being built at a cost of 41bn pesos, the new route is expected to be ready for testing at the end of 2017. A fleet of 30 EMUs would operate at up to 160 km/h to give a journey time of 39 min. Thales is responsible for the signalling and telecoms, including what it says is the first ETCS Level 2 project in Latin America.
Once the line has entered service, said Ruiz Esparza, a concession could be let to replace with private finance some of the public funding that had gone into the project.