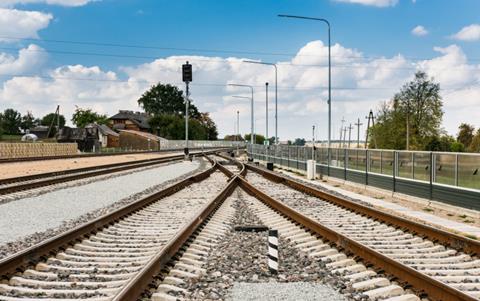 LITHUANIA: Contracts have been awarded to increase capacity and complete electrification on the Lithuanian section of Pan-European Corridor IX between the Belarusian border and the Baltic Sea port of Klaipeda. The east–west corridor carries three-quarters of the national operator's freight and two-thirds of all passenger journeys.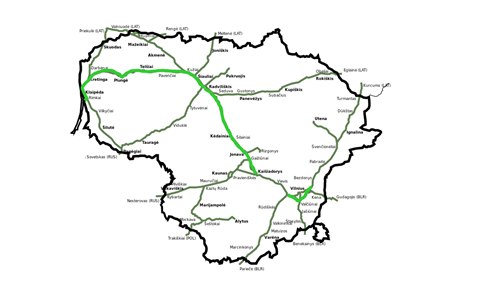 In December national railway group LG awarded a 50:50 joint venture of Spanish firms Elecnor and Abengoa subsidiary Instalaciones Inabensa a €363·1m contract for electrification of the 34 route-km Vilnius bypass and the 320 route-km main line between Klaipeda and Kaisiadorys, the junction with the Vilnius – Kaunas line which is already electrified at 25 kV 50 Hz.
Electric services are planned to start in 2024, taking the percentage of the network which is electrified from 9% to 35%.
The project is being financed by the Ministry of Transport & Communications and the EU's Cohesion Fund. LG said the tender had been awarded on the basis of the most economic offer rather than the cheapest initial price, adding that the cost per kilometre was 20% less than the average for recent European projects.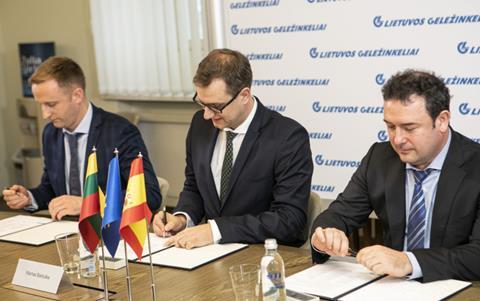 'We have been able to attract some of the best and most experienced European rail infrastructure construction consortia', said LG Chief Executive Mantas Bartuška. 'After intensive negotiations, we received very competitive offers. The implementation of this project will raise Lithuania's railway infrastructure to a whole new level of quality, which will significantly reduce freight and passenger transport costs'.
LG said the reduction in air pollution from the switch to electric traction would have socio-economic benefits valued at €700m over the lifetime of the equipment, while operators would save €505m in energy and rolling stock maintenance costs. This would make a significant contribution to meeting national and European objectives for the rail sector and the environment.
A joint venture of Eurovia CS, Eurovia Lietuva and UAB Geležinkelio Tiesimo Centras beat two other bidders to win a €51·1m contract to modernise and double track the 10·7 km Livintai – Gaižiūnai section of the corridor to eliminate a bottleneck. The work to be completed by the end of 2022 includes rebuilding bridges, erecting noise barriers and improving drainage. Speeds will be raised from 120 to 160 km/h for passenger trains and from 90 to 120 km/h for freight, with the axleload to be increased from 22·5 to 25 tonnes.
Kauno Tiltai beat two other bidders to a win a €46·7m contract covering similar works on the 13·9 km between Plungė and Šateikiai. Changes at Plungė will increase capacity and improve the efficiency of shunting operations.
Indra Sistemas has been awarded a contract to upgrade the control centre which manages the section of the Vilnius bypass between Vaidotai and Paneriai.