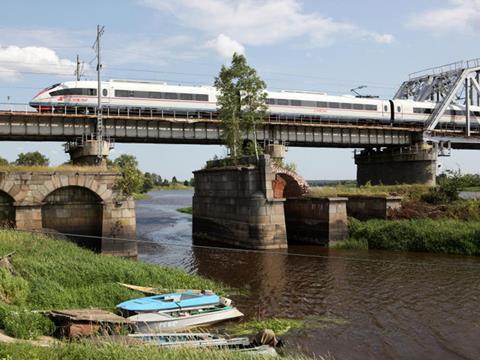 RUSSIA: A memorandum to co-operate in the development of track components for high speed lines and for localised production was signed by Russian Railways and Vossloh AG during the 10th International Railway Business Forum Strategic Partnership 1520 in Sochi on June 5.
RZD and Vossloh have been testing a turnout designed for 27 tonne axleloads and a projected life of 500 million gross tonnes, which RZD said was 1½ times more than its Russian equivalents. The trial at Orekhovo-Zuyevo on the Moscow Railway has show 'good results', according to RZD Senior Vice-President Valentin Gapanovich.
Under the memorandum, RZD and Vossloh will collaborate in the development of Russian standards and requirements for rail fastenings and components for high speed lines. They will also examine the prospects for milling and grinding using a high speed rail grinding train, and localising the production of turnout components in Russia.
'The experience of Vossloh in the European market, including in the field of high speed traffic, will enable us to make a technological foundation for a high speed rail project in Russia', said Gapanovich.