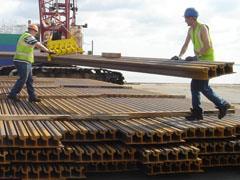 Algeria: Refer Engineering and TPF Planege have been awarded a €1·4m contract to undertake design studies for a 140 km single-track line from Boughezoul to Djelfa suitable for 220 km/h running.
Czech Republic: AZD Praha and EZ Praha have launched the KC873m second stage of remodelling and resignalling at Beclav. This will enable speeds to be raised from 40 km/h to 160 km/h from December 2014.
Eurovia CS has won a KC1·3bn contract to modernise Veselí nad Luznicí station to increase speeds to 140 km/h, or 160 km/h for tilting trains. It also has a KC872m contract to modernise Ústí nad Orlicí station, including a new building with two island platforms and a cut-off to replace a curve which restricts speeds.
Denmark: Main consultant and civil engineer Grontmij, railway engineer Atkins and Gottlieb Paludan Architects have been appointed to design a station serving a regeneration area on the site of the former Carlsberg brewery in København.
France: Vossloh Cogifer and Eiffage Rail Express have been awarded a contract to supply points, crossings and associated equipment including in-sleeper motors for the LGV Bretagne high speed line from Le Mans to Rennes.
India: Mott MacDonald is to undertake detailed design of the six elevated stations on the 6·5 km Gurgaon metro Phase II, scheduled to open in 2016.
Malaysia: Prasarana has awarded Huawei a contract to supply telecoms for the Ampang LRT project.
Poland: PKP PLK has awarded Astaldi a 240m złoty contract to modernise the railway to Kraków airport. The single-track former freight line will be replaced by a new electrified double-track alignment, and three new stations will be built.
Contracts for modernisation of the Otwock – Lublin line for 160 km/h running and 22·5 tonne axleloads have been awarded to DB International (14·7m złoty), Mosty Katowice (22m złoty) and MGGP (30m złoty).
A Budimex/Ferrovial Agroman consortium has signed a 716m złoty contract to build the Pomeranian Metropolitan Railway, a 17 km line linking Gdask with its airport, by April 2015. There will be eight new stations, and ETCS will be installed without the legacy Polish SHP.
PKP PLK has awarded Kapsch CarrierCom and Torpol a €9·2m contract to provide GSM-R for the roll-out of ERTMS on the 148 km Legnica – Wrocław – Opole section of corridor E30. Bombardier was previously awarded an €8m contract to supply Interflo 450 ETCS Level 2.
Russia: The high speed rail authority is to use Trimble's Quantm software to investigate route alternatives for new alignments.
Spain: ADIF has awarded Dimetronic a €11·58m contract to install signalling and telecoms equipment on the 40 km Vilagarcía de Arousa – Padrón section of the Vigo –
Santiago de Compostela route, currently being upgraded for future conversion to high speed operation. Provision will be made for feeding equipment at 25 kV AC once the route is electrified.
UK: Transport for London has awarded Bechtel a £36m contract to increase capacity and improve accessibility at London Underground's Vauxhall station.
To support a major electrification upgrading contract, Keltbray Group has bought five SRS Sjölanders LRB17 road-rail vehicles for £2·2m.
VolkerFitzpatrick has won a £50m contract to build train stabling facilities at Ilford for the Crossrail project. An Alstom/Costain JV won a £25m contract to provide non-traction high voltage power supplies for Crossrail.
Network Rail has selected UK Power Networks Services for the first phase of the Kent Power Supply Upgrade Project, supporting an increase in maximum train lengths from 10 to 12 cars.
USA: The Network Rail Consulting subsidiary of the UK rail infrastructure manager has joined Amtrak's Northeast Corridor Partner Forum, where it will share best practice on managing long-established rail infrastructure.