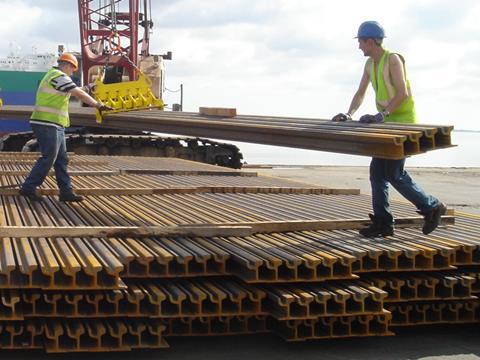 Bangladesh: Tokyu Construction has signed a ¥8bn contract to build the future Dhaka metro's Uttara depot.
Canada: Metrolinx has awarded Aecom a seven-year contract worth up to C$100m to provide advisory services for the Hurontario and Hamilton light rail projects in the Greater Toronto area.
Egypt: In April Siemens finalised a contract to supply interlockings, point machines, level crossing equipment and telecoms for ENR's Zagazig - Abu Kebir and Benha - Port Said routes, a total of 260 km with 21 stations. Commissioning is scheduled for 2020.
France: RATP has awarded Systra, Iris Conseil and Urbanica a 124-month project management contract for the extension of Paris tram route T1 to Gabriel Péri by 2023.
India: Mumbai MRDA has approved the award of three construction works packages for the 16·5 km elevated metro Line 7 to Simplex Infrastructure, J Kumar Infraprojects and NCC.
Italy: MerMec is to refurbish a Plasser EM60 track recording car used on the Milano metro network.
Luxembourg: CFL has awarded Kapsch CarrierCom a contract to implement GSM-R across the 271 route-km network by early 2017, and to provide three years of support.
Malaysia: TRC Synergy has won a 103·8m ringgit deal to build the Klang Valley MRT Pasar Seni Paid Link.
Poland: Trakcja PRKiI has been awarded a 16m złoty contract for extensive track renewals on the 16 km Warszawa ródmiecie - Komorów section of the WKD commuter rail line, while ZUE is to undertake track renewals on the 2·5 km Lublin - Lublin Pónocny line at a cost of 11·3m złoty.
Sanel has won a 27·4m złoty contract to build Kraków Sanktuarium halt for the World Youth Days on July 21-30. The project will be supervised by Arcus.
Romania: CFR SA has awarded Siemens two contracts totaling €28m for modernisation of the electromechanical interlockings at 12 station on the 150 km Adjud - Siculeni line.
Saudi Arabia: RZD Logistics has delivered 5000 tonnes of Evraz 60E1 rail for the Riyadh metro project.
Spain: ADIF has awarded Indra Sistemas a €596m contract to supply balises for its ASFA Digital automatic train protection system. A second contract worth €694m has been awarded to a joint venture of Logytel and Siemens.
UK: Transport for London has awarded Linsinger a £12m contract to supply a bespoke railhead profiler for Crossrail.
Network Rail has signed contracts with Amey, Skanska, Bam Nuttall and Siemens for the construction of the 1·5 km Ordsall Chord in Manchester.
Network Rail has awarded Harsco a multi-year rail grinder operating and maintenance contract worth US$40m.
London Underground has extended its Track Partnership alliance with Balfour Beatty for further two years to March 2018 in a deal worth £170m.
USA: MerMec is to supply a track geometry car for the 1676 mm gauge BART network. The order is financed by the Federal Transit Administration, and MerMec says this will be the first self-propelled inspection and measuring vehicle to meet Buy America requirements. Systems integration contractor Parsons has awarded Wabtec a $30m contract to supply PTC equipment for Northern Indiana Commuter Transportation District's South Shore Line.