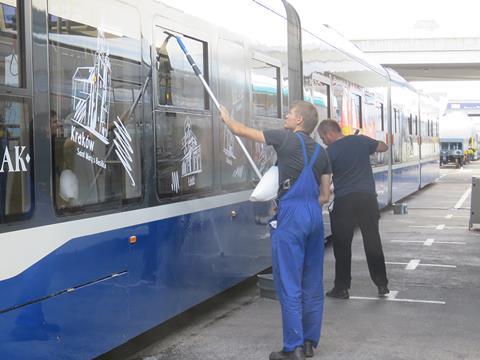 INNOTRANS: Toilet waste disposal systems, washing facilities and train interior and exterior cleaning, care and disinfectant products will be on show in Hall 7.2 at InnoTrans 2018.
Italian company Bitimec has booked almost twice as much floor space as it did in 2016, while Garrandale Rail from the UK, TEIJO Pesukoneet from Finland and Glogar Umwelttechnik from Austria will be exhibiting for the first time.
'In addition to a cleaning gel for use on very dirty surfaces and underfloor areas on rail vehicles, we will also be displaying a neutral rust remover as well as a gel-type acidic rust film and graffiti remover', said Glogar Umwelttechnik. 'Our objective is to acquire customers all over Europe.'
The rail sector is a growing market for Teijo Pesukoneet which sees InnoTrans as 'a great opportunity to address business partners from all over the world at a single event'. The company will be displaying a new generation of single and multi-stage cleaning machines.