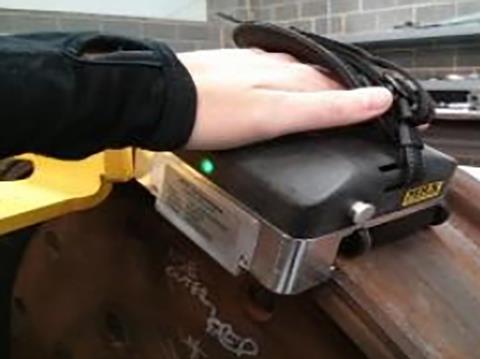 MRX TECHNOLOGIES: Developer MRX Technologies says the hand-held Surface Crack Measurement device which it will be displaying at InnoTrans 2016 has the potential to significantly extend the life of wheelsets and thus bring cost savings of up to 25%.
Using a magnetic flux technique which is well established for detecting rail flaws, the SCM enables users to carry out accurate and rapid assessments of the severity of wheel tread damage at depths of up to 10 mm. It indicates precisely how much material to remove during re-profiling on a wheel lathe, prolonging the life of the wheelset by eliminating the possibility of removing more material than necessary.
The SCM has been validated by the University of Huddersfield's Institute of Railway Research, which supported a bid for funding from the UK's Future Railway Programme. Used wheelsets were scanned with the SCM device prior to sectioning in the laboratory to confirm the accuracy of the damage reported.
'MRX has been offering the SCM technology for rail defect inspections for nearly 10 years', comments UK Engineering Manager Stephanie Klecha. 'We are excited to launch the use of SCM for assessing wheel defects.'