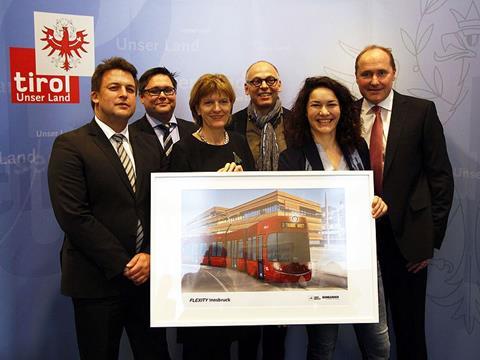 AUSTRIA: The city of Innsbruck, the Land of Tirol and transport authority IVB signed a contract on December 16 for the supply of rolling stock for the city's Regionalbahn light rail project.
Bombardier Transportation is to supply 20 Flexity light rail vehicles, along with maintenance support under Bombardier's FlexCare programme. Already in place in Linz, FlexCare is designed to allow operators to maintain vehicles at their own depots under the overall responsibility of Bombardier. The 28 m long LRVs will be equipped with Flexx Urban bogies.
Regionalbahn would see LRVs running between Völs to the west of Innsbruck and Rum to the east. Extensions at both ends of the east-west Route 3 of the tram network are due to be completed in 2018, and the remainder in 2020.