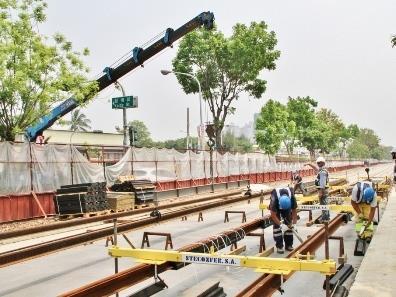 TAIWAN: Tracklaying started on the Kaohsiung light rail project on April 24. Construction had begun in June 2013, and test running on the first section is scheduled to begin in September. Revenue services are expected to start in June 2015.
The 22·1 km, 36-stop circular route is being built in three stages. The initial 8·7 km section is to run from Asian New Bay Area to Sizihwan District with grassed track and 14 stops.
A CAF-Evergreen Construction consortium is building the first stage, with CAF also to supply a fleet of Urbos low-floor trams equipped with an onboard energy storage system that will be recharged at intervals along the line to allow for catenary-free operation.
The line has a construction budget of NT$16·3bn, of which NT$6·1bn is being provided by the central government.