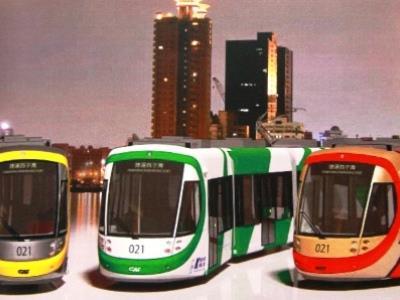 TAIWAN: Kaohsiung City Government's Mass Rapid Transit Bureau announced on January 4 that it had selected a consortium of CAF and Evergreen Construction to build the first stage of the city's catenary-free circular light rail line.
Now expected to cost NT$15·6bn, the 22·1 km route with 36 stops will link the main station with business, shopping and residential areas, as well as major developments around the harbour that are due to open during 2014. It will incorporate portions of Taiwan Railway Administration's existing Lin Gang East and West freight railways, as well as roadside reservations, and will interchange with both of the city's metro lines.
After proposing a privately-funded BOT concession in 2011, the city decided last year to manage the project through conventional procurement. New bids were called in November, with two offers being received by the December 17 deadline. The other bid came from a consortium of Ansaldo STS, AnsaldoBreda and New Asia Construction & Development Co.
The NT$5·7bn turnkey contract for the 8·7 km phase one covers detail design and construction of all civil engineering works, including the 1 435 mm gauge track, power supplies and the rolling stock. With much of the land already acquired, construction of this section is due to be completed by October 2014. Phase two is being co-ordinated with the reconstruction in tunnel of TRA's existing cross-city main line, and is due to follow by December 2017.
CAF is to supply a fleet of Urbos low-floor cars 2 650 mm wide, equipped with an onboard energy storage system that will be recharged at intervals along the line. This will avoid the need for either overhead catenary or an underground inductive power supply. Traction voltage has been specified at 750 V DC.
Services are expected to operate from 06.00 to 23.00 each day, with headways ranging from 15 min off-peak to every 6 min at peak times. Ridership on the completed route is projected to reach 87 000 passengers/day in 2021.