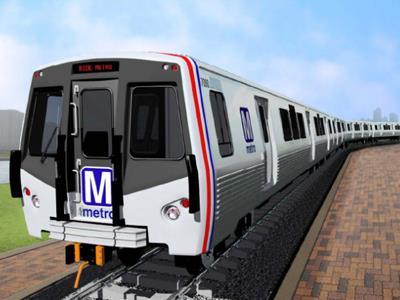 USA: Kawasaki Railcar has been nominated as preferred bidder to supply up to 748 new cars for the Washington metro network.

Kawasaki's offer was presented to the Washington Metropolitan Area Transit Authority board of directors on March 25 but a vote to approve the contract was postponed, as board members said they needed more time to scrutinise the details of the costly programme.

Initially, 64 cars designated series 7000 would be ordered for Phase 1 of the Dulles International Airport Corridor extension, followed by another 300 units to replace the system's original 1000-series cars which are nearly 35 years old. Four further options totalling 384 vehicles are included but as yet these are unfunded.

The 7000s would be configured as four semi-permanently coupled cars − the current practice is two-car sets − with the intention of running eight-car trainsets during peak periods; unlike previous orders from Rohr, Breda, CAF and Alstom, the new equipment would not be technically compatible with the older stock.

Kawasaki was selected after its bid was placed first in both technical and price rankings, which were evaluated separately. Seven firms responded to WMATA's tender but only the three bids from Alstom, Bombardier and Kawasaki were accepted. The latter was deemed to have the strongest approach technically and included a performance guarantee to meet and exceed the specified mean distance between delays of 240 000 km.

Kawasaki's price of $1·48bn was $120m less than the next lowest offer and was based on the total quantity of 748 cars; the initial 364 vehicles would cost $765m. WMATA hopes to have a prototype car delivered by December 15 2012, with the first 64 cars to be completed by April 1 2014. Delivery of the next 300 cars would start in April 2014 for completion by March 1 2016.