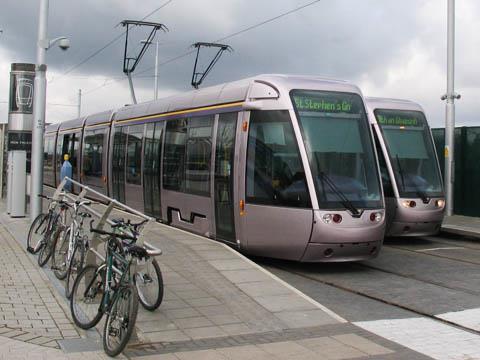 INTRO: Maintenance of rolling stock and infrastructure on the two light rail routes in Dublin has been contracted to Alstom
WELL BEFORE the first cars began running on Dublin's two light rail lines last year, Ireland's Railway Procurement Agency had put in place two contracts for the maintenance of both rolling stock and infrastructure.
Alstom Transport Ireland was set up in April 2002 to take responsibility for the rolling stock under a 15-year contract formally awarded the following month. The infrastructure contract awarded in February 2004 to a joint venture of ATI and Dalkia runs for five years with an optional five-year extension, mirroring the period selected for RPA's operating contract with Connex. Both maintenance contracts were awarded by RPA, but were subsequently novated to the operator, giving Connex 'single-point' responsibility to RPA for all performance issues.
Alstom currently has 73 staff in Ireland, including some to handle warranty issues arising from its three contracts to supply the vehicles. Once this has been completed, the final headcount at ATI is expected to fall to around 65. The organisation is structured with separate Operations, Engineering, Procurement and Administration departments which work together across the rolling stock and infrastructure contracts as an integrated operation.
ATI's infrastructure team built up rapidly to 25 people between February and April 2004, to facilitate the transfer of knowledge from the Ansaldo-Ballast Nedam-MVM construction consortium in the weeks ahead of the opening of the Green Line at the end of June. Alstom and Dalkia took over responsibility for the Red Line from ABM when this route opened on September 28.
Separate depots
Because the two Luas lines are not connected, each route has been provided with a fully-equipped maintenance and servicing depot. The Red Line depot at Red Cow is the larger, including the office buildings for both Connex and ATI and the operations control centre. There is also a local control office at the smaller Sandyford depot on the Green Line, but this is not normally staffed.
The maintenance building at Red Cow has four servicing tracks and Sandyford three. Workshop facilities at each depot include a Sculfort underfloor wheel lathe and a set of 16 Eurogamma lifting jacks able to raise a 40m long seven-section Citadis car. The two servicing roads have both pits and high-level platforms giving access to the roof-mounted traction equipment on the 70% low-floor cars. There are separate car washing and sanding facilities as well as open-air stabling roads at each depot.
The Red Line fleet comprises 26 Citadis 301 cars, 30m long, whilst the Green Line is worked by 14 Citadis 401s which are 10m longer. The availability target in the contract requires 24 Red Line and 12 Green Line cars to be available for service each day.
Both contracts cover cleaning, daily servicing, preventive, scheduled and corrective maintenance, with penalties and bonuses based on performance. They incorporate a cost price adjustment formula to protect against inflation, and are subject to commercial review after the first two years. The infrastructure contract was awarded on a fixed-fee basis, but payments under the rolling stock contract are based on the car-km operated. Vehicle overhauls are included in the contract, but priced separately. Accident and vandalism repairs are deemed additional work.
Performance is monitored on a four-weekly period. This includes an assessment as to whether the maintenance tasks have been completed as programmed, and a 10-point vehicle cleanliness check. The availability requirement includes a target mean distance between service-affecting failures of 4335 km for the Red Line, and 3150 km for the smaller Green Line fleet.
ATI Maintenance Manager Nicolas Brossier confirmed in January that vehicle availability and reliability were 'ramping up' satisfactorily, and all contractual performance targets had been achieved to date. If ATI can achieve reliability three times the initial level, it will receive a bonus payment.
Infrastructure too
Alstom's share of the infrastructure maintenance contract covers the track - a mix of slab, ballasted and grassed - overhead line equipment, the power supply network and 13 substations, the signalling, automatic vehicle location system and communications. Local property services company Dalkia is responsible for inspection of the civil works, the depot buildings and the 36 tram stops; the two companies share the landscaping work.
Performance standards set out in the infrastructure contract include network availability and ambience, such as rubbish and graffiti removal, grass cutting and the condition of the stops. Excluded from the package is maintenance of the ticket vending machines, which is handled directly by their supplier Scheidt & Bachmann under a separate five-year contract. The contracts require a 30min response time to any call-out to an incident.
Growing the business
Estimates by the European industry association Unife suggest that over two-thirds of all rolling stock maintenance is still carried out in-house by train operators, with the 29% that is outsourced representing a €9bn market. Alstom is aiming at structural growth within what it sees as an accessible market, which is growing at 5% to 6% per year.
Since the company won its first significant rolling stock maintenance contract from Cairo Metro in 1985, Alstom's service business has expanded to the point that it now accounts for around 35% of turnover. In 2000-01 the company was responsible for maintaining 3946 vehicles; this figure had risen to 6517 in 2004-05 and the projected total for 2005-06 is 7055 as more contracts come on stream. Of this total, multiple-units account for 40%, locomotives 22%, metros 18%, high speed trains 15% and light rail 5% (above).
The Alstom Train Life Services business unit currently has 8500 employees at 25 depots and 19 workshops around the world. Around 60% of its business is maintaining Alstom-built equipment, with the remainder covering other manufacturers' vehicles. ATI Business Director Emmanuel Gulloir emphasises that the service sector is a long-life business, with some contracts running for up to 30 years.
Service contracts have been awarded through many different routes. As well as follow-on contracts related to rolling stock supply orders, such as the Dublin and Orléans light rail schemes, there is the private finance initiative to renew London Underground's Northern Line fleet, and BOT concessions in which Alstom has an equity stake, exemplified by the TramBaix and TramBesos light rail projects in Barcelona.
Elsewhere there are straightforward maintenance agreements, such as the 15-year deal with Bucuresti metro operator Metrorex, signed in June 2004. Here Alstom is maintaining both the locally-built Astra cars and new Movia trainsets supplied by Bombardier. Under the contract Alstom will modernise the three existing depots and the workshop, install new information technology and workshop equipment, and take over and retrain 1200 Metrorex staff.
TABLE: Selected Alstom maintenance contracts
Freight railways
Cameroon: locos, wagons and coaches
Mexico: ex-FNM locomotives
Mexico: TFM track
New Zealand: Tranz Rail locos and wagons
USA: BNSF locomotives
Main line passenger
Australia: Melbourne suburban EMUs
New Zealand: Auckland suburban DMUs
South Africa: Metrorail suburban EMUs
Spain: Renfe AVE and Euromed trainsets, Class 252 locos
Spain: Madrid Class 447/450 suburban EMUs
UK: First North Western Class 175 DMUs
UK: Virgin West Coast Class 390 Pendolinos
UK: First Great Western Class 180 DMUs
USA: Amtrak Acela Express
Metro/light rail
Argentina: Metrovías Line D
Chile: Santiago Metro, existing network
Chile: Santiago Metro Line 4
Chile: Valparaíso Metro
Brazil: Brasilia Metro
Brazil: São Paulo Metro Line 5
UK: London Underground Northern Line
UK: London Underground Jubilee Line
Australia: Melbourne Yarra Trams
France: Orléans trams
Ireland: Dublin Luas trams
CAPTION: High-level platforms and inspection pits are provided on both servicing roads at Red Cow; access to the walkways alongside the roof-mounted equipment is interlocked with the overhead power supply
CAPTION: A set of 16 lifting jacks is provided at Red Cow to raise a 40 m long Citadis 401 car, but the shorter cars can be lifted using 12
CAPTION: Under the Luas infrastructure maintenance contract, Alstom is responsible for all 13 substations and the power distribution network