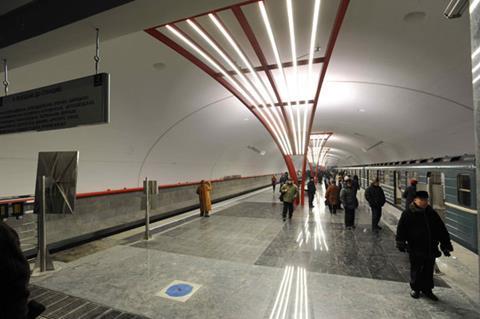 RUSSIA: On December 24 Alma-Atinskaya opened to become the 187th station on the Moscow metro. The station serves the Bratyevo district in the southeast of the city and becomes the new southern terminus of Line 2, at the end of a 3·1 km extension from Krasnogvardeyskaya. Three entrances lead into the station, which is at a depth of 10 m below ground.
The Bratyevo rolling stock stabling depot is due to open on the same extension by the end of 2014, between Krasnogvardeyskaya and Alma-Atinskaya stations.
The southern extension of Line 2 is one of 19 projects in the first phase of the Metro 2020 expansion plan, due to be completed between 2011 and 2015 (MR 12.12 p29). As well as new stations and line extensions, the plan includes upgrades to escalators, ventilation systems and new rolling stock.