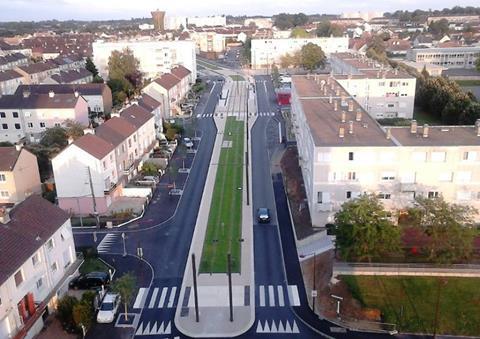 FRANCE: The light rail network in Le Mans was extended on August 30 with the opening of a 3·6 km branch through the northeast of the city.
The city's 15·4 km starter line opened in 2007, consisting of a principal route of 12·6 km from the university in the northwest to a park and ride facility at Antarès in the south plus a 2·8 km branch to Espalarche de la Nature in the east of the city.
Trams on the newly-introduced route T2 have taken over operation of the branch from Espalarche de la Nature to the junction at Saint Martin; from there they share tracks with route T1 as far as Préfecture, where the new alignment diverges to reach Bellevue-Hauts de Coulaines, serving six stops.
Under a contract agreed in 2012, Alstom has supplied a further eight Citadis low-floor trams from its La Rochelle plant to operate services on the new line and to augment the existing fleet of 26 cars. Operator Setram, a subsidiary of Keolis, has modified the interiors of the existing fleet to reflect updated accessibility standards and feedback from passengers.