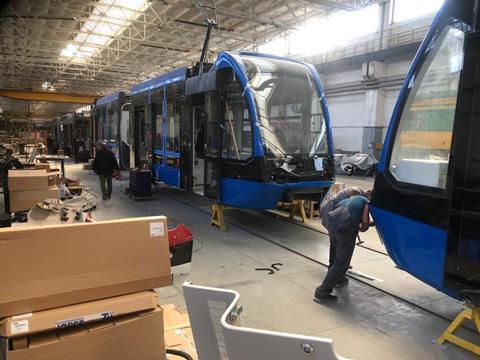 ROMANIA: Brăila municipality has awarded sole bidder Astra Vagoane Călători a contract to supply six trams with an option for two more.
The city's 22·7 km network is currently operated with second-hand vehicles from Rotterdam, Wien and Graz, although Astra is scheduled to deliver two new trams this December under a contract awarded in May 2021.
The latest contract was signed on October 19, with deliveries scheduled by June 2026. The 48m lei order is being funded by the European Union's Recovery & Resilience Fund (98%) and Brăila municipality.
The new trams are intended to improve urban transport and help lower transport emissions on the route to the Lacu Sărat tourist resort.
The two-section low-floor trams will be 20 m long with a capacity of at least 132 passengers, including 32 seated. They will have three double-leaf doors, a maximum speed of 50 km/h and a service life of at least 17 years, with a warranty of at least five years or 350 000 km. The blue livery is inspired by the River Danube that passes the city.