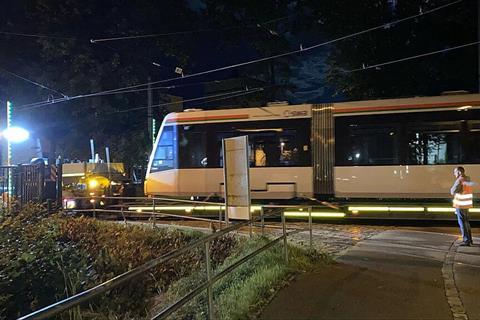 GERMANY: The first of 11 Stadler Tramlink trams has been delivered to Augsburg, following production delays caused by the coronavirus pandemic and the Russian war against Ukraine.
Stadtwerke Augsburg placed the €57m order in October 2019 to enable it to replace its almost 30-year-old Adtranz GT6 cars. There is an option for a for a further 16 trams.
The seven-section low-floor metre gauge unidirectional tram is 42 m long. It has a capacity of 231 passengers, including 86 seated, with multifunctional areas with space for wheelchair users and pushchairs. A CO2 sensor will adapt the air-conditioning to suit passenger loadings.
The livery was chosen by public vote, and is based on the silver of the local buses, with a green and red band.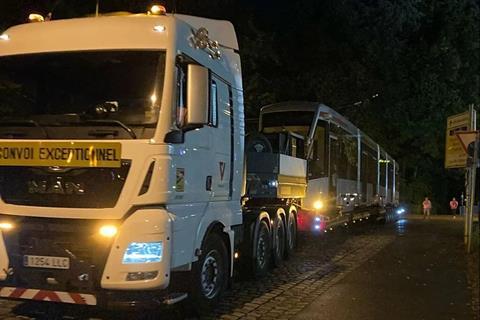 The 52 tonne tram was split into two and five-section parts for delivery. These were transported by road from Stadler's factory in Valencia to Santander and then by sea to Brugge and road to Augsburg, where they arrived in the early hours of August 3.
The first tram was originally scheduled to be delivered in July 2022, but the date was pushed back because of the impact of the pandemic on the Spanish factory and on global supply chains. Russia's war in Ukraine added to the problems, as electronic components are produced in Ukraine and Belarus and delivery was delayed or affected by sanctions.
Testing is planned from September, when the second tram is due to arrive. This will be followed by driver training ahead of entry into passenger service at the beginning of 2024.
All 11 trams are due to arrive over the next year, at which point the Augsburg fleet will comprise only modern Siemens Mobility Combino, Bombardier Transportation Cityflex and Stadler Tramlink trams.