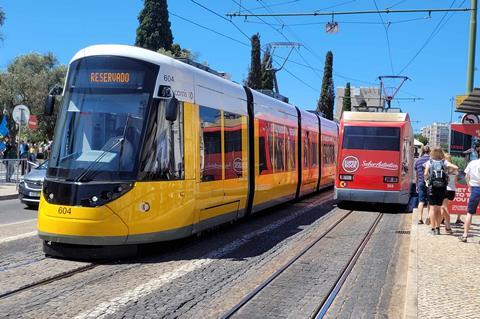 PORTUGAL: Lisboa bus and tram operator Carris has begun testing and driver training with its first new trams for 28 years.
In December 2019 CAF beat Stadler to be named preferred bidder for a €43·4m contract to supply 15 trams and provide five years of maintenance, but the order was not confirmed until April 2021.
The five-section unidirectional 900 mm gauge low-floor vehicles from CAF's Urbos family are 28·5 m long with a maximum speed of 70 km/h. They have provision for the future retrofitting of onboard energy storage equipment to enable catenary-free operation in architecturally sensitive areas.
The first of the trams was delivered to the Portuguese capital from CAF's Navarra plant in April this year, and five have now arrived with the rest scheduled for delivery by the beginning of 2024. The trams will be based at the Santo Amaro depot, which is currently being expanded to accommodate them.
They are scheduled to enter service from September on the busy Route 15 which runs parallel to River Tajo from Praça da Figueira to Algés, connecting the city centre with tourist destinations including Belém and the Jerónimos Monastery.
In the future they will be used on extensions to Cruz Quebrada and Santa Apolónia station.