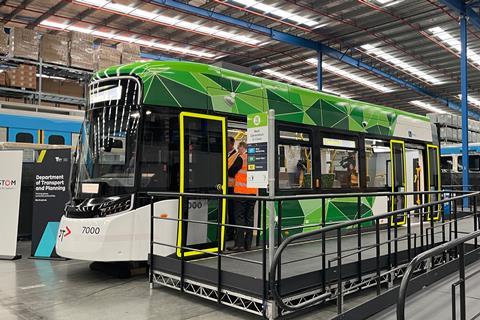 AUSTRALIA: A full-size mock-up of Melbourne's future G Class tram has been produced to obtain feedback from passenger, driver, technical and accessibility groups ahead of series production.
In 2022 Victoria's Department of Transport awarded Alstom a €700m framework contract to supply 100 customised Flexity 2 trams and provide 15 years of maintenance. The order forms part of Victoria's A$1·85bn Next Generation Trams Project, which includes the construction of a purpose-built depot at Maidstone.
The low-floor trams are intended to provide an increase in capacity to handle population growth, and will improve accessibility by enabling the retirement of all high-floor vehicles by 2032.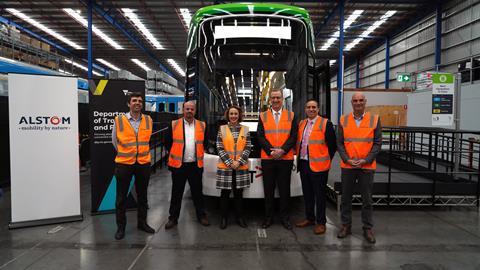 The basic design is for a three-section 25 m long vehicle with three bogies and a capacity of up to 150 passengers. This could be extended to 35 m with four bogies if necessary to enhance capacity. The front end has been designed to enhance driver sightlines and provide good collision protection, while an obstacle detection system will be fitted.
Onboard energy storage and regenerative braking will reduce energy consumption per passenger by 30% to 40% compared to the city's E Class trams. Peak current draw will also be limited to reduce the need for power supply enhancements.
The trams are to be produced by Alstom at the former Bombardier Transportation Dandenong plant with at least 65% local content, supporting up to 1 900 local jobs through manufacturing, the supply chain and construction.
'This is the biggest investment in locally made trams in Australia's history and today is an important step towards finalising the design before production gets underway', commented Victoria's Minister for Public & Active Transport Gabrielle Williams when the mock-up was unveiled on October 23.
Test running with the first G Class trams is scheduled to begin in 2025, before the vehicles enter service on routes 57, 59 and 82 serving the northwest suburbs.