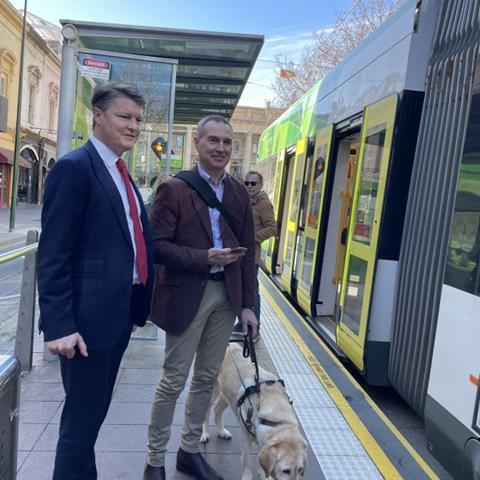 AUSTRALIA: The NaviLens mobile app and codes are being rolled out to assist blind and low-vision passengers to travel independently on Melbourne's Yarra Trams network.
The codes, which look like brightly coloured QR patterns, are initially being installed at every stop on Route 96 as well as on the interior and exterior of the trams operating on the route.
Users scan the codes using the NaviLens app, which then provides audio information about their current location, the available tram routes and live arrival information.
The app can read the codes from a long distance, and provides spatial information such as the direction the code is facing and how far it is from the user.
The app can also translate information into more than 30 languages.
The codes will also be installed on all 100 E-Class trams running on routes 11, 30, 58 and 86 as well as on other routes during special events.
NaviLens codes have previously been deployed on transport networks in València, Barcelona, Murcia and Alacant in Spain, on London's Docklands Light Railway, and in Singapore, on the New York Subway and in California.
'We're always looking at new technologies that we can integrate into Melbourne's iconic tram network to make Yarra Trams more comfortable, more reliable, and more accessible', said Yarra Trams CEO Carla Purcell when the first of more than 3 000 codes was installed on August 14.