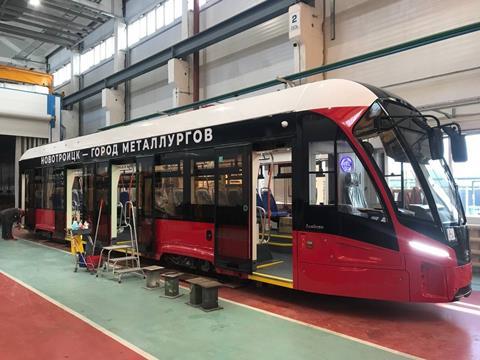 RUSSIA: Novotroitsk municipality has awarded PK Transportnye Systemy a 1bn rouble contract to supply 13 trams.
Mayor Denis Menshikov announced on November 10 that the first of the trams was ready for delivery, and all are due to be delivered by March 2024. The oblast is covering 50% of the cost of the order.
The single-section low-floor 71-911EM Lionet vehicles have a capacity of 155 passengers, including 40 seated. There are two single-leaf doors at the ends and two double-leaf doors in the middle, with a safety system to prevent the tram moving if the door is obstructed.
Features include USB sockets, CCTV and a ramp for passengers with reduced mobility.
The 13 km long tram network in the city of 90 000 people carries 3·5 million passenger-journeys/year. Once the new trams enter service the current fleet of high-floor trams of various types will be transferred to the neighbouring city of Orsk.
'There are only seven cities in Russia with a population of less than 100 000 inhabitants that operate a tram service. And Novotroitsk is one of them', says PKTS CEO Alexander Dubrovkin. 'We must pay tribute to the municipal administration, which managed not only to preserve the tram network of the city but also maintained it in excellent condition. Now the time for a tram renaissance should come in the city.'