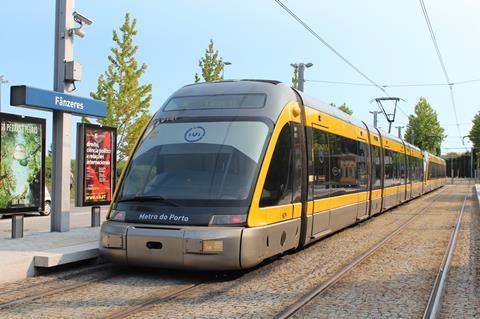 PORTUGAL: Metro do Porto has awarded a consortium of Alberto Couto Alves, FCC Construcción and Contratas y Ventas a €379·5m contract for the construction of light rail line H (Ruby).
The 6·4 km Line H would connect Casa da Música on lines A, B, C, E, F and G in the centre to Santo Ovídio in the south, where interchange would be provided with Line D. The station is also planned to be served by the future Lisboa – Porto high speed corridor.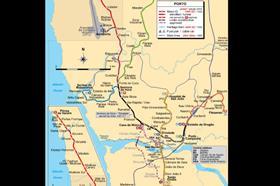 Line H would have a total of eight stops, including Devesas main line station, and it would also serve the Campo Alegre University and the Arrábida hospital.
The project would include the construction of the Antónia Ferreira, a Ferreirinha bridge over the Douro River.
Works are expected to be completed by the end of 2026. The total project cost is estimated at €435m; Metro do Porto says this is the largest investment to date to be funded from Portugal's share of the EU's Recovery & Resilience Fund.
Long-term plans
Meanwhile, Metro do Porto presented its Metro 3.0 expansion plan on October 17. This covers an estimated €1bn of investment for the construction of four new lines totalling 37 km, serving 38 stops. However, some of these routes may be built as bus rapid transit rather than light rail lines.
The programme was formally launched in Gondomar in the presence of Portuguese Prime Minister António Costa and Minister for the Environment Duarte Cordeiro. Metro do Porto says it has already called tenders for what it terms 'preliminary projects' and environmental impact studies for the programme. The key elements of the expansion are:
a 6·9 km Gondomar Line to link Estádio do Dragão on lines A, B, E and F to Souto in the southeast, serving eight new stops;
a northwest to north São Mamede Line which would run 6·6 km from Senhora da Hora on lines A, B, C, E and F to IPO on Line D, serving eight stops;
a light rail extension would be built from the Ismai terminus of Line C to Muro, serving one intermediate stop. From Muro, a bus rapid transit route would be constructed further north to Trofa. The route, totalling a combined 10·2 km, would run along a former railway alignment towards Guimarães, which closed in 2002;
a 13 km Maia II line to connect the Verdes on lines B and E with Roberto Frias, near the northern terminus of Line D, serving 16 stops. This could be built either as a light rail line or as BRT.
Metro do Porto says that the main objectives of the expansion plan are to reduce road traffic in the Porto metropolitan area, as well as to more than double the annual light rail ridership. The operator aims to carry 150 million passengers a year by 2030, from the 65·1 million it recorded in 2022.