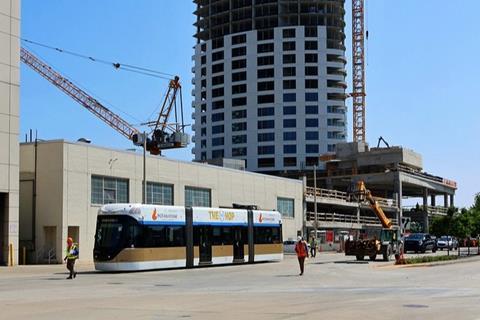 USA: A limited preview service on Line L of The Hop streetcar network in Milwaukee was launched on October 29.
The partly catenary-free Line L operates in a figure of eight. This uses a newly constructed 1·2 km single-track loop with three stops, one of which is not yet open, and an existing single-track loop which is also served by tram route M.
The extension was funded largely by a federal Transportation Investment Generating Economic Recovery grant awarded in 2015.
Line L initially operates only on Sundays at 20 min intervals, with a full service planned for April 2024.
The limited opening is down to delays in completing The Couture, a 44-storey skyscraper which was originally scheduled for completion in 2020 alongside the tram route. Until the building has been completed, trams will not serve the Lakeside stop at The Couture.
Services are operated by Transdev using one of five trams supplied by Brookville Equipment Corp for The Hop.