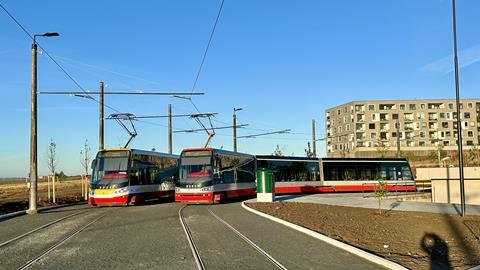 CZECH REPUBLIC: Two tram extensions opened in mid-October in Praha, serving two newly built regeneration areas.
Dědina route
A 2 km tramway opened in the northwest of the city on October 23, running from Divoká Šárka to Dědina. The four-stop extension is served by tram routes 20 and 26, and is intended to link the newly built Na Dědině housing estate to the tram network.
The extension was built by Subterra in 13 months. The KC839·5m construction cost was partly funded by the European Union's Transport 2 Operational Programme.
A further extension of the tramway from Dědina to the future Dlouhá Míle railway station was approved on July 24. Dlouhá Míle station is being developed as part of the Praha airport rail link project; construction of the 1 km tram route is expected to start in 2027 at the earliest.
Slivenec extension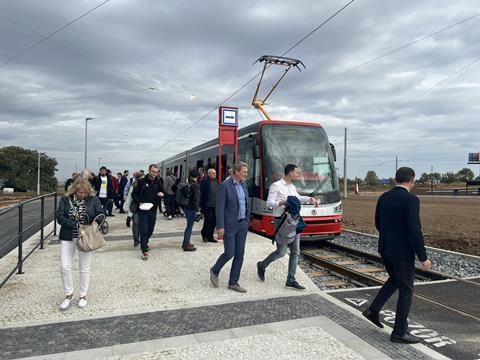 Revenue services started on October 13 on a 415 m long, one-stop tram line from Holyně to Slivenec in the southwest of the capital. This is the second phase of the Barrandov tram extension scheme. The tram line is used by tram routes 4, 5 and night route 94; the extension serves a real-estate development area in Slivenec and a shopping complex now being built. A park-and-ride facility is also planned at the Slivenec terminus.
The terminus has a three-track, 946 m long tram loop that can accommodate 10 trams up to 30 m long. Part of the alignment is built on steep gradients of more than 5%. Civil works were carried out by Strabag Rail in nine months at a cost of KC233m.
The first section of the extension from Sídliště Barrandov to Holyně opened in April 2022, covering a distance of 1 km.