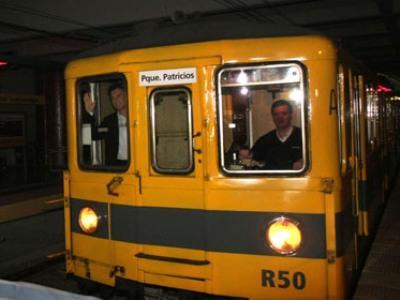 ARGENTINA: On October 4 the southern extension of Line H from Caseros to Parque Patricios was formally opened by Mauricio Macri, head of the Buenos Aires city government, joined by Juan Pablo Piccardo, President of metro construction authority SBASE. Public services were due to begin at 18.00.
The new southern terminus of Line H at Parque Patricios is fully accessible, with tactile floor panelling and braile signage for visually-impaired passengers. Wi-fi access is also available. In keeping with the tango theme adopted for station art on Line H, Parque Patricios pays hommage to the actor and singer Tito Lusiardo; it is home to the first two original artworks to be commissioned for the Buenos Aires metro.
When complete, Line H will run for 10 km between Nueva Pompeya in the south of the city and Plaza Francia in the north, serving a total of 14 stations. The next section is due to open in May 2012, running from Parque Patricios to Hospitales.
Work is expected to begin soon on a further 4 km of extensions, from Hospitales to Sáenz and northwards from Corrientes to Plaza Francia, as well as a rolling stock maintenance facility. Under what SBASE says is the largest tender for 60 years, bids to supply 102 new cars for Line H are due by the end of November.