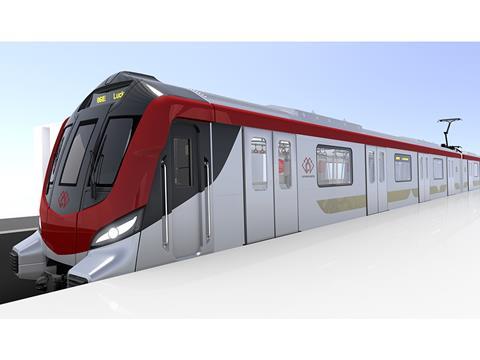 INDIA: Lucknow Metro Rail Corp and Alstom unveiled the appearance of the Metropolis trainsets for the city's future metro line on May 10, in the presence of Akhilesh Yadav, Chief Minister of Uttar Pradesh.
LMRC ordered 20 four-car Metropolis trainsets in September 2015 as part of a €150m contract which also includes signalling for the line.
Alstom said the styling was 'a tribute to the city's cultural richness', with the front end 'conceived in the spirit of' the gates to some of the city's most important monuments, including the Bara Imambara congregation hall, Asifi mosque and Rumi Darwaza gateway. The V-shape of the lower section of the front symbolises 'dynamism and rapidity', while the livery is 'both highly modern and very much inspired by the traditional cashmere craftsmanship of Lucknow'.
The trainsets will have 186 seats arranged longitudinally, and include two dedicated zones for passengers with reduced mobility.
The cars will be produced at Alstom's Sri City and Coimbatore plants in India. The Urbalis communications-based train control will be jointly supplied by Alstom's sites in Bangalore and Saint-Ouen in France.
The metro line connecting Chaudhary Charan Singh International Airport and Munshipulia will have 19 stations on a 19·4 km elevated alignment plus three on the 3·4 km underground section. The 8 km first phase is scheduled to open at the end of 2016. The line is predicted to carry 430 000 passengers/day in its first year of operation, rising to more than 1 million/day by 2030.