A £102m renewals blitz that includes replacement of 24 km of track on the original Altrincham and Bury lines is a prelude to a major expansion of Manchester's light rail system that will begin in earnest next year. Nick Kingsley reports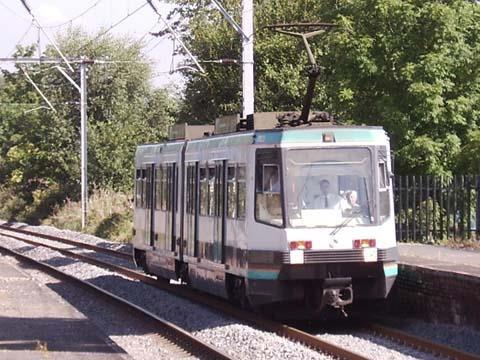 THE FORTHCOMING expansion of Manchester Metrolink is a welcome development that comes against a background of light rail project cancellations elsewhere in the UK. However, funding from government was only secured after years of intense lobbying by local politicians, and even now the Greater Manchester Passenger Transport Executive's 'big bang' vision may only be partially realised.
It is telling that the extension of Metrolink to Oldham, Rochdale, Droylsden and Chorlton was already envisaged when the original two-line Bury – Manchester – Altrincham network opened in 1992 (RG 11.91 p757), and almost two decades are likely to have passed between the project's conception and the first passengers travelling on these routes.
In part, the years of wrangling that preceded the expansion programme have left the executive facing the prospect of a huge rolling programme of renewals and construction over the next five years.
Renewals blockade
By the early part of the new century, it had become clear that extending the network for a second time — Phase 2 was a 7 km line to Eccles via the Salford Quays regeneration zone which opened in 2000 (RG 12.98 p874) — was not the sole urgent challenge facing planners.
The Bury and Altrincham routes have proved the long-term success that they were expected to be back in 1992 when they were converted from dilapidated suburban railway lines. But overcrowding had become a severe problem in the peaks, and the legacy of leaving much of the aging British Rail track in situ at the time of conversion was taking its toll on vehicles, drivers and passengers alike.
'Some drivers were starting to suffer from repetitive strain injury', says Paul Griffiths, Gmpte's Projects Director, illustrating the seriousness of the ride problems. The magnetic track brakes of the Firema cars were also suffering considerable damage, while local residents were becoming increasingly unhappy at the noise of cars passing over worn, jointed bullhead track.
The government approved a £102m funding package which included renewing the Bury and Altrincham lines in July 2005, enabling work to begin before a final decision on funding for future extensions was taken. Carillion Construction was selected as lead contractor for the track renewal programme following a competitive tendering process.
Under its £25m renewal contract, Carillion replaced most of the track — 16 route-km on the Bury line and 8 route-km on the Altrincham line. Where track has not been replaced, a grinder has been employed to smooth the railhead.
Gmpte decided shortly after funding was secured that a phased blockade would be essential to undertake such large-scale renewals. Closure would also permit additional work on structures and stations to be undertaken without further disruption to services. 'It would have taken at least two years to do all the work using weekend and overnight possessions', Griffiths says.
Continuously-welded flat-bottom track to a heavy rail specification has been supplied by Corus. An increase in rail section from 43 kg/m to 51 kg/m was considered desirable to increase current return and maintenance intervals; for these reasons, 36 kg/m rail was not considered suitable. Some 40 000 timber sleepers have been replaced by twin-block concrete sleepers from Stanton Bonna, and 60 000 tonnes of new ballast has been laid. In addition, a Voestalpine crossover has been installed at Crumpsall, replacing a locally-controlled crossing removed in 2005. This was installed partly to enable trams to reverse at the station during the first stage of the Bury line blockade.
High-quality replacements
Although the blockades were introduced in stages, the total closure of both lines was intended to match the main summer holiday period. Replacement buses ran between Altrincham and St Peter's Square from July 2 to August 27, and on the Bury line from May 29 to September 13. 'We knew that we couldn't do all of the Bury line works during the school holidays, but we were confident that the bus service could cope', Griffiths explains. Brand-new buses were supplied by First Group for the limited-stop shuttles to Bury at Gmpte's insistence, and vehicles were also sourced from Stagecoach and Arriva.
Northern Rail's hourly suburban trains between Manchester and Chester, which serve Navigation Road and Altrincham, were strengthened with Class 142 diesel railcars brought from warm storage.
Both lines reopened on schedule on August 28 and September 13 for the Altrincham and Bury branches respectively, and Griffiths is quick to praise Carillion. 'They've done an excellent job, especially when there was so much that could go wrong.' Carillion employed freight operator EWS to supply renewals trains, and set up a yard at the heritage East Lancashire Railway in Bury from which to access the Metrolink line via a connection at Buckley Wells.
At the Altrincham end, empty trains would leave the possession zone each night via the single line connection to Network Rail, to be immediately replaced by a loaded one. 'Any failures there would have caused major problems for NR, but we planned it properly and Carillion executed those plans well.'
Three Class 08 diesel shunters with reduced-height cabs were supplied by EWS to haul trains under the Metrolink catenary on the Bury line. One locomotive suffered a major failure and had to be sidelined, but again, luck was on the engineering team's side as it occurred at a point in the blockade where three shunters were not a necessity.
Griffiths feels vindicated by the decision to go for the phased blockade, which has been supported by a massive local publicity campaign. 'We had the media cancel several interviews because there were no horror stories about the bus replacements and no major over-runs'. Gmpte was even involved in bringing the annual Test match at the Old Trafford cricket ground forward by a month to June.
By September 4 passenger numbers on the Altrincham were back close to the regular weekday level, just a week after the resumption of normal services.
New cars
To combat the overcrowding issue an initial batch of eight Bombardier Flexity Swift cars is on order for delivery in early 2009 at a cost of £17m. However, Griffiths expects that by the time the first vehicles have arrived in Manchester, a rolling production line will be in place that would see a further 28 delivered to cover the next phase of expansion. The contract between Gmpte and Bombardier includes an option for up to 61 further vehicles.
The high-floor cars will bear a close resemblance to the K5000 series already used in Köln. Griffiths dismisses the challenge that they are more expensive than their German equivalents due to the specification required to meet the UK's stringent safety regulations (MR07 p53). 'Every light rail system has its own unique idiosyncrasies, and the modifications to the design for Manchester are not excessive.' However he accepts that the cars are likely to be somewhat functional in design – 'they won't look like Marseille's!'
The first eight vehicles are to be deployed on the nine trams/h route that operates directly between Altrincham and Bury on weekdays. These services will be strengthened to run with a pair of cars, offering much-needed extra capacity in the peaks. However there will be no increase in frequencies for now.
Unlike the six Ansaldo cars delivered in 1999 to work services to Eccles, it is envisaged that the Bombardier cars will operate across the whole of the existing network, meaning that skirts and retractable couplers will be required for the lengthy on-street section to Eccles. The extension to Droylsden is also likely to be built largely on-street. But they will not operate in multiple with either the Firema or Ansaldo cars.
TIF bid ongoing
The Association of Greater Manchester Authorities and Greater Manchester Passenger Transport Authority received approval from the Department for Transport on July 6 to start work on Phase 3a, which is expected to cost £540m in addition to the £202m already spent on land acquisition for the full scheme. The £520m made available by DfT will be supplemented by loans which will be repaid from revenue over 30 years.
But Gmpte's long-standing vision to take Metrolink into Rochdale and Oldham town centres, Ashton-under-Lyne, East Didsbury and Manchester Airport will now only be completed if Phase 3b also gets the go-ahead.
This is the subject of the AGMA's bid for £1·2bn from the government's Transport Innovation Fund (RG 9.07 p521). A successful TIF bid would require a congestion charge to be imposed on road traffic in central Manchester at the busiest times, and this has prompted a heated local debate about the benefits of the proposed scheme.
Griffiths and his colleagues are adamant that the TIF bid is 'much more about public transport than congestion charging'. The 10 local authorities that make up AGMA insist that transport improvements will be delivered before road charging is introduced, and Phase 3b will form an integral part of this.
However, timescales for Phase 3 remain unclear. Griffiths is hopeful of a decision from the Department for Transport early in 2008, and DfT officials are already regularly seen in Gmpte's new city centre headquarters assessing the details of the bid. He adds that, in practice, Phase 3b could 'catch up' with Phase 3a, eliminating the risk of the expansion stalling between the two stages.
Push the button
Parsons Brinckerhoff is managing the process of finding contractors to undertake civil works on Phase 3a as part of its role as Gmpte's Metrolink delivery partner. Construction is expected to begin in late 2008.
The 22 km extension to Oldham and Rochdale will replace the existing suburban railway which links the two towns with Manchester. Close to where the current railway diverges from the Manchester Victoria – Bradford line at Thorpes Bridge junction, a dramatic new station shell has been erected to serve the Central Park business development, while a flyover has already been built to carry Metrolink over the flat junction. Both structures were built as part of the Phase 3 advance works project.
Under Phase 3a, trams will follow the current railway formation through Oldham and serve the town's two poorly-sited stations at Werneth and Mumps, which are separated by two tunnels totalling 840 m, in which overhead catenary will obviously have to be installed. Griffiths suggests that even if the on-street route through the town centre were to be built in Phase 3b, the tunnel could be retained for diversions or to deliver additional capacity.
The rest of Phase 3a comprises a 6·4 km line running eastwards from the existing stop beneath Manchester Piccadilly station to Droylsden, running on-street and serving the New East Manchester housing regeneration zone and Manchester City Football Club's stadium. A 2·9 km branch to Chorlton-cum-Hardy will follow the former Midland Railway alignment between Trafford Bar and St Werburgh's Road.
Griffiths is unwilling to commit to precise timescales for the completion of the 'little bang', suggesting that until contractors are in place and work is ready to start, precise predictions are unwise. 'We just want to push the button and get on with it', he says.
Passive provision is in place for several elements of Phase 3b. Work has already started to prepare the site of Rochdale's new central bus station, which will incorporate space for a twin-track Metrolink terminus. Likewise, the recently-extended transport interchange at Manchester Airport has room for additional platforms to be built parallel to those for main line trains.
Costing an estimated £1·2bn, phases 3a and 3b would together take the network to 95 route-km, handling 45 million passenger-journeys a year and removing an estimated 10 million car journeys a year from the city's roads.
The future
A successful outcome to AGMA's quest for TIF support could give renewed impetus to the transport executive's plans to complete the Metrolink jigsaw. A 4 km extension from East Didsbury into Stockport town centre would be a logical step to relieve pressure on local roads, and this could yet be incorporated into Phase 3b if the project gains Transport & Works Act approval.
Plans to develop Metrolink in the west of the city are not new, but further question marks over funding mean the project remains firmly on the drawing board. Gmpte holds powers to build a 5 km line from Pomona to the Trafford Centre, but expects the retail park's owners to fund the project privately. The Lowry cultural centre would be served by a few hundred metres of track from a junction with the Eccles line at Broadway.
A plan to create a loop line linking the airport back to Baguley via Wythenshawe Hospital was deferred as part of the effort to control costs on Phase 3, but here too planning powers will be retained for possible reactivation in the future.
A more recent addition to the menu would see a second city centre crossing built to offer greater flexibility. Griffiths acknowledges that once Phase 3a is built, far more trams will need to squeeze onto the twin-track city section with its low-speed delta junction in Piccadilly Gardens.
'We don't want to turn trams back at Victoria or Cornbrook – that defeats the point of the network', he says. But no route has been selected for the second city crossing and planning is only in its earliest stage.
CAPTION: Carillion led the £25m project to renew track along the Bury and Altrincham lines. Some of the track on the Bury line dated back more than 50 years. Both lines reopened on sched ule following the summer blockade
CAPTION: Left: Much of the Phase 3 expansion programme has been on the agenda almost since Metrolink opened, but Gmpte also has less clear-cut plans to build a second route through the city between G-Mex and Victoria
CAPTION: Right: The eight trams on order from Bombardier are likely to resemble the K5000 cars used in Köln
CAPTION: A tram passes the new Gmpte office on the left of Piccadilly Place before running into the station undercroft behind. Once Phase 3a is complete, trams will continue beyond Piccadilly to Droylsden
While we're here...
GMPTE and Carillion have undertaken a raft of improvements to stations and structures along the Altrincham and Bury lines while they were closed over the summer, explains Nigel Clifford, Project Manager for the track renewals.
On the Bury line, the Withins Lane bridge deck was replaced (right) to increase the weight restriction from 7·5 tonnes to 40 tonnes. The distinctive spine-beam bridge spanning the M60 motorway and A665 Bury Old Road at Besses o' th' Barn was re-waterproofed, while Radcliffe viaduct had 52 patress plates inserted in the 13 span structure prior to the blockade works. Engineers were initially concerned at the structure's ability to withstand renewals trains passing over it, and further inspection revealed that further preventative work would be required to prepare it for several more years carrying trams. 'The blockade was the ideal opportunity to do these, otherwise we were looking at 6 months of Sunday closures', Clifford explains.
Reconstruction of 22 out of the 30 station platforms on the segregated sections was required to comply with the Disability Discrimination Act. The track cant has been removed where possible to improve level access to the vehicles – cant was a legacy of British Rail days when some fast services would have run through stations. More than 10 km of safe cess walkways have been also been constructed lineside, together with 2 km of new drainage channels. Minor adjustments have been made to the overhead catenary to boost clearances.
Stagecoach on board
ON JULY 15 Stagecoach replaced Serco as operator of the Metrolink system for the next 10 years.
Serco had operated the system for the previous decade, but a competitive tender process saw Stagecoach edge out Keolis to add Metrolink to its existing operation of Sheffield Supertram on the other side of the Pennines.
Paul Griffiths acknowledges that switching operator in the middle of the engineering blockade caused a number of management headaches, especially with a skeleton service in the city centre and the line to Eccles still running. In particular, a change in management responsible for operational safety was a cause for concern, but Griffiths is relieved that the handover went relatively smoothly.
Although Stagecoach has extensively rebranded Supertram to match its corporate identity, Gmpte is still discussing how best to manage the Metrolink identity in future. 'We need to make sure the brand is ready to be rolled out across Greater Manchester as the network expands.' Stagecoach will clearly have a role to play in how this evolves, he says, but the disappearance of Metrolink's familiar logo and distinctive turquoise livery it is not yet a foregone conclusion.