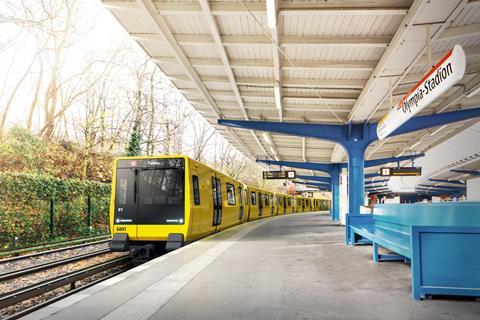 GERMANY: Stadler announced on March 20 that it had won an order to supply up to 1 500 metro cars to Berlin operator BVG. The framework agreement has a nominal value of €3bn and includes the supply of spares over a period of 32 years.
Reports emerged last year that Stadler had been selected as preferred bidder for a fleet renewal contract covering several U-Bahn lines. However, a formal announcement was delayed amid objections from a rival supplier, understood to be Alstom.
'After one of the unsuccessful bidders had initiated a review procedure, the Berlin Higher Regional Court rejected this appeal in the last instance. This clears the way for the formal award of the contract and thus for the binding order', the Swiss supplier said.
Part of the framework contract is a fixed minimum order quantity of 606 cars. From 2022, Stadler will deliver 376 cars in two- and four-car formations for both the small and large profile lines. A further 230 cars would then follow at a later date. Future options cover the supply of another 894 vehicles in the longer term.
BVG has designated the cars as the J/JK series, following on from the I/IK design already supplied by Stadler and used on lines U1, U2 and U5. The J/JK fleet will feature a series of design tweaks, including modifications to the depth of door pillars to accelerate passenger flow at stations and a revised approach to locating interior passenger information screens to ensure they are more visible through the saloon.
The fleet is to be produced at Stadler's Pankow assembly plant in Berlin, where the company is to invest €70m including construction of a new production hall and enhanced amenities for staff.
'We are very proud to have won one of the largest delivery orders to date in Europe and to be able to carry it out for Berlin in Berlin', said Jure Mikolčić, CEO of Stadler in Germany. 'We have decided to move ahead with planned investments in the Stadler location in the German capital in order to create an optimal base for the execution of this major project.'