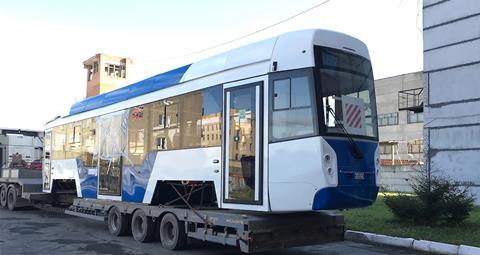 Uraltransmash is testing a prototype 71-411 tram on the metre-gauge network in Yevpatoria. Series production could begin in 2020.
A 4·8 km metro line with three stations opened in Wuhan on November 6. This would eventually form the southern end of Line 8, whose initial section opened in 2017.
Delhi Metro Rail Corp took over operations of the Gurgaon metro from October 22.
Tbilisi plans to purchase 10 four-car metro trainsets to increase capacity on Line 1. The US$60m order is to be financed by the European Bank for Reconstruction & Development.
Heliopolis station on Cairo metro Line 3 was officially opened on October 22.
UTTZ is to supply two battery trolleybuses to Novokuznetsk for 35·9m roubles.
The Bratislava city authorities have decided to build a 1·2 km tram extension from Starý most to Miletičova ulica following the completion of a feasibility study. The project is expected to cost €18·4m and would be completed in 2024.
Balzola has been awarded a 67m złoty contract to build a 1 km extension of the Warszawa tram network to Winnica.
Kiepe Electric is to modernise electrical equipment and HVAC on 30 Schwerin trams supplied by DWA Bautzen in 2001-03.
The European Investment Bank has signed a €100m loan agreement with the city of Graz, part of which will be used to upgrade tram infrastructure. A Bombardier Flexity tram from Wien was tested on the city's network from two weeks in October, and a Siemens Avenio from München is also due to be tested.
Sole bidder Solaris is to supply 20 electric buses to ZTM Lublin. The 62·5m złoty contract includes charging infrastructure.
Trans-Alfa has won a 165m rouble contract to supply 15 low-floor trolleybuses to Kirov.
Incumbent Ruhrbahn has been directly awarded a contract to operate the Düsseldorf light rail network for a further 22½ years.
Tramwaje Szczecińskie has taken delivery of a Volvo track maintenance road vehicle for use on the tram network in Szczeciń.
Government funding has been approved for the construction of a second tram line in Bergamo. The national government will provide €125m, with a further €40m coming from Lombardia and €13·5m from the commune.
A 4·3 km extension of the Saint-Étienne tram line T3 opened on November 16 from Gare de St Etienne Chateaucreux to Geoffroy Guichard.
Unibuss has ordered 23 12 m electric buses from BYD for use on routes in and around Oslo. Deliveries are scheduled for the second quarter of 2020.
Alstom and Zaragoza transport operator CTAZ have carried out a pilot project to improve bus network management using big data and machine learning.
First Group has started a pilot of NFC ITSO-on-mobile ticketing with Google Pay on its buses in Glasgow.
The Port Authority of New York & New Jersey has authorised $4·1bn for the development of two airport connectors. Half of the funds are being put towards AirTrain LaGuardia, and the other half is going towards a rebuild of the AirTrain Newark to replace the existing monorail.
Services on CPTM suburban rail Line 7 in São Paulo have been extended from Luz to Brás.
Atlanta metro authority MARTA has signed a $600m contract with Stadler for the supply of 127 metro trains. Stadler was selected as preferred supplier in March.