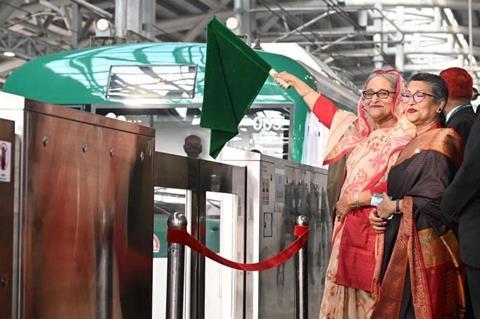 BANGLADESH: Prime Minister Sheikh Hasina has opened the country's first metro line in Dhaka. The capital was one of the biggest cities in the world without a metro, with more than 22 million people in the metropolitan area, and Bangladesh University of Engineering & Technology has estimated the cost of the city's severe road congestion at US$3bn/year.
The first line, designated Line 6 as part of plans to develop an extensive network, runs 11·7 km on an elevated north-south alignment from Uttara North to Agargaon with nine stations.
The opening ceremony was held on December 28, with passenger services starting the following day. Until late March there is only a limited service, running from 08.00 to midday and not calling at all stations.
The Prime Minister was accompanied by the Japanese Ambassador Kiminori Iwama and Ichiguchi Tomohide of Japan International Co-operation Agency, which has financed 75% of the US$2·8bn cost of Line 6 under a 40-year official development assistance soft loan agreement signed in February 2013. The government of Bangladesh provided the remainder of the funding.
Construction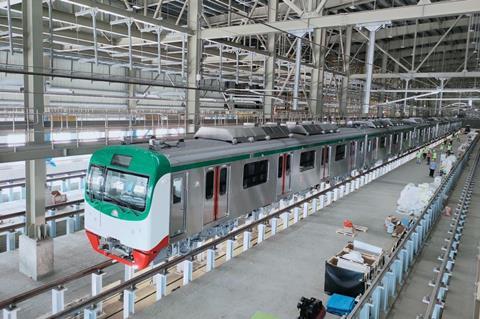 A foundation stone for was laid on October 31 2013, but construction works did not begin until in June 2016.
A consortium of Nippon Koei, Delhi Metro Rail Corp, Mott MacDonald and Development Design Consultants acted as general consultant.
Civil works were undertaken by Italian-Thai Development and China Sinohydro Corp.
The track, CBTC and 1·5 kV DC overhead electrification was supplied by a joint venture of Marubeni and Larsen & Toubro under a ¥55bn railway systems contract awarded in June 2018.
In August 2017 operator Dhaka Mass Transit Co awarded a consortium of Kawasaki Heavy Industries and Mitsubishi a ¥40bn contract to supply 24 trainsets and fit out the depot. The stainless steel cars built in Japan are 19·8 m long and 2 950 mm wide. The six-car sets have 306 seats and space for up to 1 700 standing passengers. Each car has two large-capacity air-conditioning units, internal and external CCTV cameras and four sets of double doors.
The station platforms are 180 m long to enable trains to be lengthened in the future.
Furrer+Frey provided electrification systems for the depot, including movable overhead conductor bars enabling safe work on the train roof.
Toshiba Infrastructure Systems & Solutions Corp has supplied a substation traction energy storage system, which uses lithium-ion batteries to store regenerated braking energy for use by accelerating trains and can provide emergency power during a supply failure.
Expansion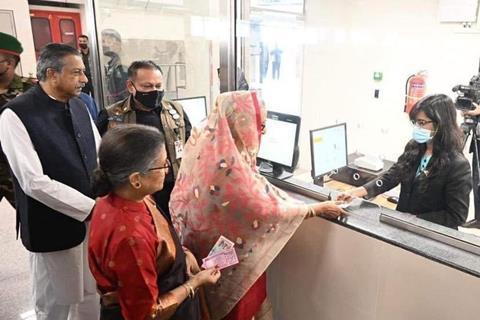 Work is underway to extend Line 6 by 9·5 km and eight stations. The section from Agargaon to Motijheel is expected to open in December 2023, with Motijheel to Kamalapur to follow in 2024. Kamalapur is near the main railway station, and will provide an interchange to the future metro lines 1, 2 and 4.
Line 6 forms part of the 20-year Strategic Transport Plan outlined by the Dhaka Transport Co-ordination Authority, which is planning a network of six lines and more than 100 stations by 2030.
The Prime Minister said development work is underway on three of the planned lines, and studies for a further two are in progress. The government is also seeking to develop local capabilities to reduce reliance on foreign expertise.