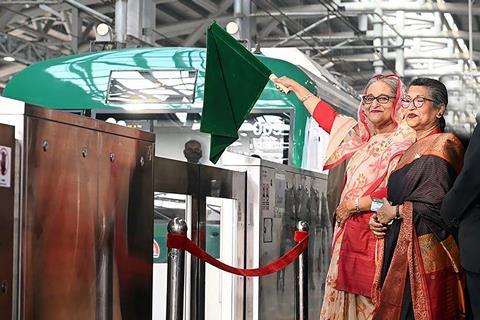 BANGLADESH: Prime Minister Sheikh Hasina has opened an extension of Dhaka metro Line 6 and officially launched construction of Line 5.
The Line 6 extension, which was inaugurated on November 4 ahead of the start of regular services the following day, runs for 8·7 km from Agargaon to Motijheel. There are two intermediate stations, with four more to open later.
Line 6 is the city's first metro line, having opened in December last year. Dhaka Mass Transit Co reports that the initial section of Line 6 between Uttara and Agargaon has been carrying 85 000 passengers/day, which is expected to reach 600 000 passengers/day once the full service is running.
The future Line 5, also known as the northern route, will run for 20 km from Hemayetpur to Bhatara via Gabtoli, Mirpur-10 and Gulshan.
Construction is scheduled for completion by 2028 at cost of 412·4bn taka.