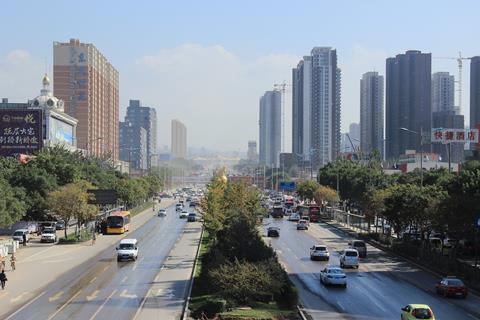 CHINA: Taiyuan, the provincial capital of Shanxi with 4·3 million inhabitants, became the latest addition to the Chinese metro club when it opened its first line on December 26.
Designed for fully automatic operation to GoA4, the 23·7 km Line 2 runs from Jiancaoping in the north to Xiqiao in the south. It is operated by a fleet of 24 six-car Type A trainsets with stainless steel bodies, manufactured by CRRC Dalian, which run at a maximum speed of 80 km/h in passenger service. Each train has 336 seats and is designed to carry 1 984 passengers, with a crush load capacity of 2 534.
Taiyuan's current metro development programme envisages the construction of three lines totalling 93·4 km. As well as the north-south Line 2, Line 1 would run start in the western suburbs and run east through the city centre before turning south to Taiyuan Nan station and the airport. Line 3 would start in the northwest and follow the Fen River south before looping around the city to Taiyuan Nan and the southeast. In the longer term a further four proposed lines could lift the network to 233·6 km.