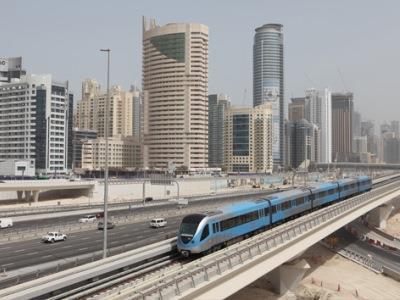 UAE: Dubai's Roads & Transport Authority has invited expressions of interest in a design and build contract covering civil works, railway systems and rolling stock for the planned metro Blue Line.
Around 15·5 km of the 30 km line would be underground and 14·5 km elevated. There would be five underground stations including one interchange, and seven elevated stations including one which RTA says will have an 'iconic' design. Another two elevated transfer stations are envisaged to provide interchange with the Red Line at the existing Centrepoint station in Rashidiya and the Green Line at its Creek terminus in Al Jaddaf.
An initial fleet of 28 driverless trains is envisaged, although the depot would have a capacity for 60 trains.
Initial responses are to be submitted to RTA by November 24.
First proposed in 2006, the Blue Line is intended as a second north-south route, linking Dubai International Airport with the Al Maktoum Airport in Jebel Ali. It would parallel the Red Line but run further inland, broadly following Sheikh Mohammed bin Zayed Road. Like the two existing lines, it would be built for fully-automated operation to GoA4.
Planning for the Blue Line was put on hold following the 2008 financial crisis, but the project was revived as part of the Dubai 2040 Urban Plan adopted in March 2021. This sustainable development plan envisages that the emirate's population will increase from 3·3 million in 2020 to 5·8 million by 2040, with its 'daytime' population including commuting workers rising from 4·5 to 7·8 million.
Websites
We are not responsible for the content of external sites