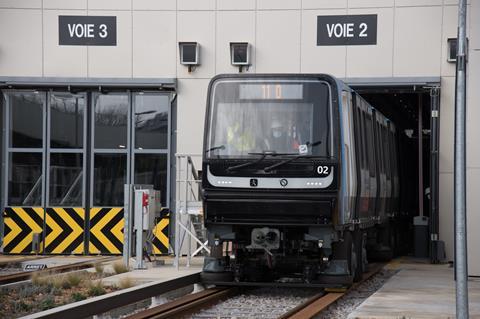 FRANCE: Test running with new five-car MP14 rubber-tyred trainsets has started on the eastern extension of Paris metro Line 11, transport authority Île-de-France Mobilités and operator RATP announced on April 6.
The new sets for Line 11 are the third batch of MP14 stock to be supplied by Alstom within a framework contract for up to 217 trains, but the first to be fitted with cabs. They follow 35 eight-car driverless trainsets for the automated Line 14 and 20 six-car sets for Line 4, which is due to be converted to fully automatic operation by the end of 2023.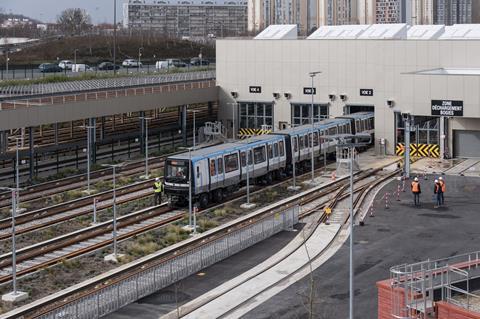 Currently running from the city centre hub at Chatelet to Mairie des Lilas on the eastern side of the capital, Line 11 is in the process of being extended to Rosny-Bois-Perrier, providing interchange with RER Line E and the Grand Paris Express orbital network. The 6 km extension, of which 5·4 km will be used by passengers, will add a further six stations to the route, and is expected to open by early 2024.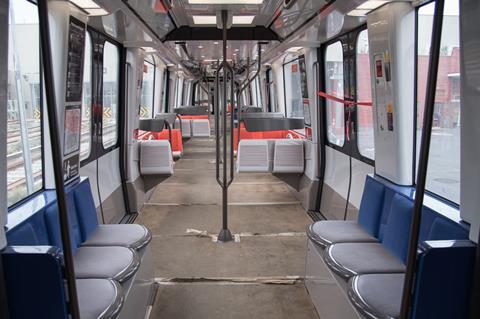 Line 11 is currently worked by a fleet of four-car MP59 trainsets dating from 1963, which are now the oldest rolling stock in use on the Paris metro network. They are to be replaced by 39 five-car MP14 sets which will also be sufficient to work the extended route. The new trains are 75·4 m long with capacity for 562 passengers. They have three sets of doors per vehicle, which are operated by the driver.
Testing is being undertaken from the line's new rolling stock depot east of Rosny-Bois-Perrier, which has been operational since the beginning of the year, providing four tracks for maintenance, stabling roads and a train washer. Test running will initially use a 2 km section of the extension, but from mid- 2022 will continue as far as the elevated station at Coteaux-Beauclair. The programme is due to finish at the end of the year, to allow the extension to be connected up to the existing line. According to RATP, through running with the MP14s on the whole of Line 11 is planned from mid-2023.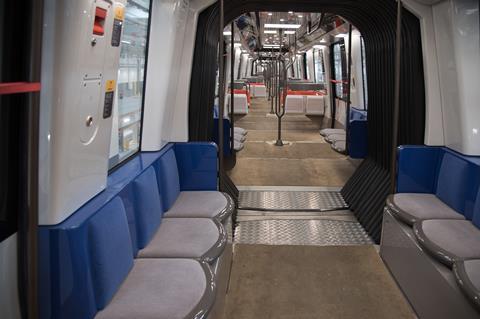 Total cost of the 39 trainsets is €310m of which IdFM is providing 74% and RATP the remaining 26%. The extension is priced at €1·08bn, and is being funded by the national government, Ile-de-France région, Société du Grand Paris and the département of Seine-Saint-Denis. Modernisation of the existing line, including station renewals and improved accessibility, is adding a further €214m, with funds coming from RATP, the city of Paris, Île-de-France and the national government.