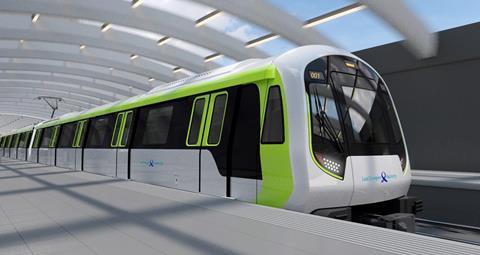 SINGAPORE: Land Transport Authority has ordered 44 six-car trains for the Cross Island Line from a consortium of CRRC Qingdao Sifang and Singapore CRRC Sifang Railway Vehicles Service.
The S$589m contract announced on June 14 includes the option to order up to 11 additional trainsets and sign a long-term service support agreement.
The fully automated trains will be wholly designed and manufactured by CRRC Sifang in Qingdao. Deliveries are scheduled from 2027, in time for the opening of CRL Phase 1 in 2030.
Each car will have five doors on each side and the inter-car gangways will be 1 600 mm wide, compared to 1 400 mm on the trains on other lines.
The trains will be powered by a 1·5 kV DC Overhead Conductor Rail, which LTA said would increase energy efficiency compared to a 750 V DC third rail system.
They will have condition monitoring and diagnostic systems for early detection of potential faults, and some of the fleet will also be equipped with an automated track and overhead electrification inspection system.
CRRC Sifang has previously supplied trains for Singapore's North–South, East–West and Thomson–East Coast lines through a consortium with Kawasaki Railcar Manufacturing.