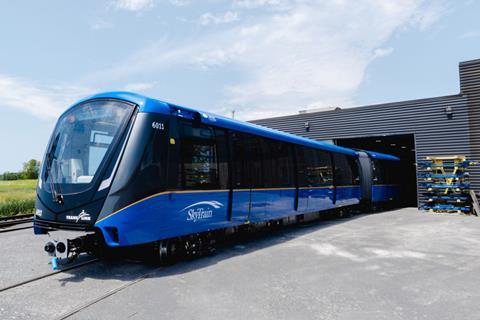 CANADA: The first of the MkV trainsets for Vancouver's SkyTrain automated light metro are on test at Alstom's factory in Kingston, Ontario.
In December 2020 transport agency TransLink awarded what was then Bombardier Transportation a C$722·6m contract to supply 205 cars as part of the Expo Millennium Line Upgrade programme.
The order includes 125 cars to replace the MkI vehicles which entered service in 1985 and are to be withdrawn by the end of 2027, and to support the 5·7 km Broadway Subway extension of the Millennium Line which is under construction for opening in 2026, plus 80 cars to increase capacity on the Expo and Millennium Lines.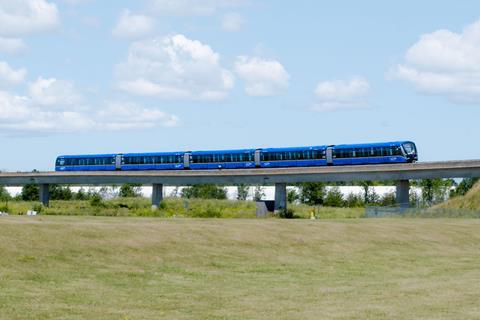 The MkV fleet will be formed as five-car trainsets, with walk-through interiors similar to the MkIII trains. They have mostly airline style seating, as well as pads to lean against. The interiors will feature more space for bikes and luggage, with digital passenger information displays.
There will be door chimes and on-train announcements to assist customers who are visually impaired, while to assist people with hearing loss there will be indicator lights which flash when the doors close, fault warnings are issued or the emergency brakes are deployed.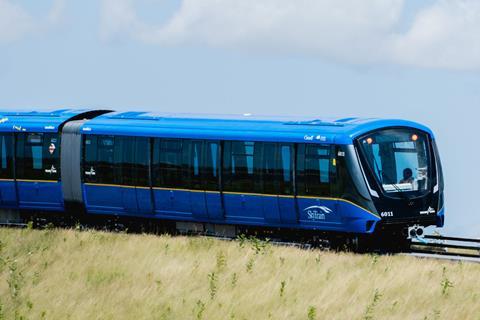 'The MkV trains represent a significant milestone in TransLink's Expo and Millennium Line Upgrade Programme, delivering a more comfortable and efficient transit experience for all passengers', said Terry Beech, Member of Parliament for Burnaby North – Seymour and Minister of Citizens' Services, on August 22.
'With their modern design, enhanced features, and improved accessibility, these trains mark a substantial advancement in the public transportation system and reflect our government and partners' commitment to work together to meet the diverse needs of our ridership.'