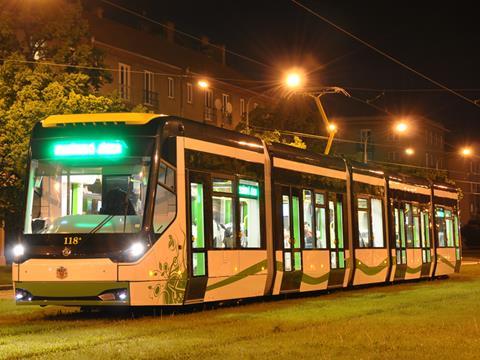 HUNGARY: The first of 31 trams ordered by Miskolc transport operator MVK is now on test in the Czech city of Plzen, where the trams are being manufactured by Škoda Transportation. An initial two 26T trams are scheduled to arrive in Miskolc in July, with deliveries running until February 2015.
The Type 26T tram is a five-section bi-directional standard gauge vehicle. It is 32·1 m long, and Škoda Transportation says that it is the widest tram it has produced, at 2 650 mm.
The tram is low-floor throughout, with a floor height of 360 mm and an entrance height of 330 mm. Total capacity is 56 seated and 220 standing passengers, and internal CCTV and air-conditioning are fitted. The livery of green flowers on a white background was selected through a poll of Miskolc residents.
Four 100 kW asynchronous traction motors are fed by IGBT converters giving a maximum speed of 70 km/h, although the top speed in regular service would be 50 km/h.
MVK and Ganz-Skoda signed the KC1·85bn tram contract in February 2012, after three previous tenders were cancelled by the Public Procurement Arbitration Board.
The Type 28T trams which Škoda Transportation is to supply to the Turkish city of Konya will be derived from the 26T design, and the manufacturer said it is currently preparing tenders for contracts in Germany, Italy, Turkey and Scandinavia.