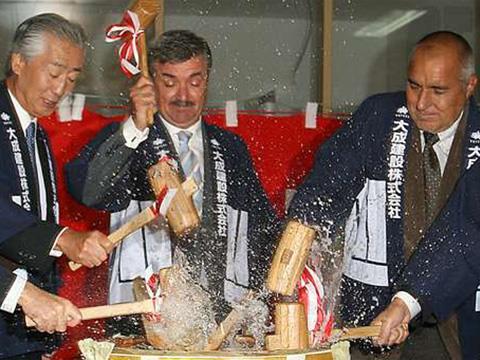 BULGARIA: Prime Minister Boyko Borisov, interim Mayor of Sofia Minko Gerdzikov and Japanese Ambassador Tsuneharu Takeda formally opened the latest section of Sofia metro Line 1 on September 8. Passenger services had started the previous day.
The 2 km link between Serdika and Vasil Levski National Stadium joins the initial Obelya - Serdika section of the metro with the route from Mladost 1 to Vasil Levski where an isolated service was launched in May.
Construction of the link was financed by the Bulgarian government through a €90m long-term loan from Japan. After the ribbon-cutting, officials took part in the traditional Japanese ritual of Kagami Biraki, which involves breaking a cask of sake using wooden hammers.
The new section includes one intermediate station, St Kliment Ohridski, 12 m below ground near Sofia University. The station is expected to handle high levels of traffic, and has eight entrances serving the ring road, Vasil Levski Boulevard and the university.
Line 1 is now 18 km long with 14 stations. Recently-delivered trains from Metrovagonmash with a total capacity of 1 100 passengers each will run from 05.00 to 24.00, with peak headways of 4 min. The Obelya - Mladost journey time is about 30 min, and daily ridership is expected to be between 160 000 and 180 000 passengers.
Construction of a further extension from Mladost 1 to the International Exhibition Center on Tsarigradsko Shose began on July 2 for completion in 2012. The €94m project includes 2·5 km of tunnel, one station and a car park.
Tenders have been called for the supply of 25 low-floor 1 009 mm gauge trams to Sofia.